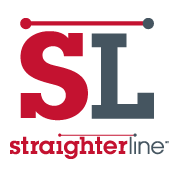 By creating a low-cost, low-risk option for students to start college, NSULA reinforces its dedication to adult learners in Louisiana," says Burck Smith, CEO of StraighterLine.
Baltimore, MD (PRWEB) June 19, 2013
StraighterLine (StraighterLine.com) announced today that Northwestern State University of Louisiana (NSULA) (http://www.nsula.edu/) has joined their growing network of partner colleges. Nationally recognized as both an adult friendly and top military friendly university, NSULA is a welcome addition to StraighterLine's partner school network, which now includes many of the leading adult-focused institutions of higher learning.
StraighterLine and NSULA share similar missions. Northwestern State University of Louisiana's CALL program is designed for the adult student to adapt to specific interests, backgrounds, time limitations, and ultimate career goals. It is especially appropriate for mature adults with a clear focus and desire to pursue a distinct course of study based upon educational and work experiences. Both NSULA and StraighterLine encourage students pursuing credit for life and work experience through Prior Learning Assessments and degree completion programs and support active duty military students.
Together, NSULA and StraighterLine offer working adults the opportunity to get a quality education online, flexibly and conveniently, at a substantially lower cost than most traditional degree programs. Students can take freshman and introductory-level classes through StraighterLine and save thousands of dollars on the cost of their college degree. With StraighterLine's affordable subscription pricing plan, students can save up to 90% on their first year of college and can move through the material as quickly or slowly as they like.
"By creating a low-cost, low-risk option for students to start college, NSULA reinforces its dedication to adult learners in Louisiana," says Burck Smith, CEO of StraighterLine.
According to Dr. Darlene Williams, Vice President for Technology, Research, and Economic Development at NSULA, "Northwestern State is engaging in this partnership to establish another pathway by which students who want to complete a degree – can make that dream become a reality." And Dr. Lisa Abney, Provost and Vice President of Academic and Student Affairs at NSULA says, "We are delighted to work with StraighterLine on this new initiative which provides ACE credit to students who are pursuing a degree. We look forward to working with these StraighterLine students at Northwestern."
About Northwestern State University of Louisiana
Northwestern State University has an enrollment of more than 9,400 students with campuses in Natchitoches, Shreveport, Leesville/Fort Polk, Alexandria and Marksville, La. Founded in 1884, Northwestern State is the oldest institution in the University of Louisiana System. Northwestern State has 78 active associate, bachelor's, master's, specialist and certificate programs with the largest being nursing and business administration. The university has 34 accredited online degree programs, the most of any college or university based in Louisiana. Northwestern State has a 14-sport athletic program which competes on the Division I level in all sports.
About StraighterLine
StraighterLine has been recognized as a revolutionizing force in education by major news organizations and the U.S. Chamber of Commerce for offering students online courses that earn real college credit for just $99 a month. Inside Higher Ed recognized StraighterLine for offering the "...lowest-cost set of credit-bearing courses on the Internet." And Fast Company named StraighterLine one of the "10 Most Innovative Companies in Education."
In order to facilitate the award of credit, StraighterLine has forged partnerships with leading accredited online colleges and universities. A student ultimately earns a degree from those institutions but realizes tremendous savings and convenience by starting with StraighterLine.
StraighterLine's courses are evaluated and recommended by the American Council on Education's College Credit Recommendation Service (ACE CREDIT), which includes over 1,800 participating colleges and universities. In addition to the institutions with which StraighterLine has a direct relationship, more than 350 other schools are reported to have accepted StraighterLine coursework for transfer credit.
Currently, StraighterLine offers entry-level college courses online in the Sciences, Humanities, English, Math, Business and Language. Many StraighterLine courses are now offered in both self-paced and professor-led formats, for students to take individually or as part of a cohort. Recently, AHIMA approved continuing education units for two StraighterLine science courses specifically for ICD10 certification programs. 5 StraighterLine courses have been approved by The College Board to be listed as AP courses. As a pioneer in the movement to revolutionize college for America, StraighterLine also offers alternatives to college courses including Prior Learning Assessments and credit-by-examinations that let students earn college credit for knowledge and life experiences they already possess.
For information, visit StraighterLine.com or call 1-877-str8erline (1-877-787-8375).
###