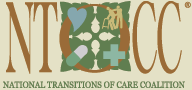 Washington, DC (PRWEB) May 08, 2013
The National Transitions of Care Coalition (NTOCC), an organization focused on addressing and improving patient care transitions in the U.S. health care system, is set host the Nashville Regional Transitions of Care (TOC) Summit this summer to raise awareness about the challenges of poor transitions and present solutions designed to improve transitions. Registration is now open for this one day event, scheduled for July 18, 2013 at Baptist Hospital in the Gladys Stringfield Owen Education Center.
This event is tailored to the specific needs of the community, exploring local challenges which present barriers to improved transitions as well as technology-based and other solutions in development by area organizations. Additionally, the Nashville event will focus on how local stakeholders can collaborate to develop and advance transitions of care initiatives.
The agenda includes a full day of sessions, encompassing a regional TOC expert panel, an overview of NTOCC's work and resources, sessions on healthcare reform and technology as they relate to TOC and collaborative breakout sessions. Cheri Lattimer, RN, BSN, NTOCC Executive Director will speak and present at the event, among several area thought leaders.
Early Bird pricing is available now through June 13; visit http://www.ntocc.org/Events/NashvilleTOCSummit.aspx for more information and to register. In addition, NTOCC invites companies interested in connecting with this exclusive audience to consider visibility opportunities.
NTOCC's Summit Series was founded in 2012 and brings together a unique mix of health care professionals, patient and caregiver advocates, policy makers with NTOCC thought leaders and partner representatives to discuss effective solutions and highlight emerging resources. Visit http://www.ntocc.org for more information on NTOCC, including the latest TOC-related public policy updates, TOC Compendium resources and Evaluation Software information.
About the National Transition of Care Coalition
The National Transitions of Care Coalition is a 501(c)(4) dedicated to addressing a serious U.S. health care issue: filling the gaps that occur when patients leave one care setting and move to another care setting. These transitions include patients moving from primary care to specialty physicians; moving or transferring patients from the emergency department to intensive care or surgery; or when patients are discharged from the hospital to home, assisted living arrangements, or skilled nursing facilities. The U.S. health care system often fails to meet the needs of patients during these transitions because care is rushed and responsibility is fragmented, with little communication across care settings and multiple providers. To learn more, visit http://www.ntocc.org and follow the Coalition on Twitter @NTOCC.