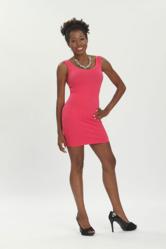 You don't have to stop eating -- just eat better!
Fort Washington, PA (PRWEB) December 06, 2012
Nutrisystem reveals the latest real-life weight loss success story. It's like a gut-wrenching scene out of a movie. Pretty girl goes on date. Date doesn't live up to expectations. A man afterwards tells her she needs to lose weight to be more "dateable." Except it's not a movie. It's a moment in the real life of Keishia Kemp, a vivacious 35-year-old who was always told by family and friends that her curves were beautiful.
On the heels of receiving the "lose weight" dating advice, Keishia Kemp's doctor told her that he was worried about the impact of the past decade's weight gain on her 5'2" frame. This back-to-back reality check about her weight brought tears, followed very quickly by action. Kemp left her doctor's office, went home and ordered Nutrisystem.
For Kemp, who didn't want to count calories or points, get weighed-in, visit centers or attend meetings, Nutrisystem was the right choice. In eight months time, Kemp has lost 40 pounds* – or one quarter of her body weight – through a combination of Nutrisystem, dance fitness and strength training.
"Of all these elements, my diet was probably the most important factor in changing my physique," notes Kemp. "When I became regimented about my food consumption and portions, drank water, and increased my vitamin intake, the changes were immediate and incredible. I sculpted my body down to a toned and fit 110 pounds -- I look strong and healthy." Nutrisystem is also announcing that it has selected Kemp to be one of the new faces in the company's national ad campaigns.
Finding Her True Fit
Down from a size 12 to a size 0, the more important fit for Kemp has been how gaining control over her weight has opened up new doors in her life. Kemp's weight-loss journey also allowed her to unlock her passion for dance-fitness and discover her true calling as a Zumba instructor as well as a desire to share what she's learned as a health/wellness advocate. Kemp founded Fit Girls Rule, a fitness and healthy living advocacy group for those looking to be inspired and have fun while sweating and losing weight.
Keishia's 5 Smart Tips
Nutrisystem asked Kemp for her five tips for staying healthy:
Ditch the Diet Mindtrap
There is a difference between dieting versus adopting a healthy lifestyle. "Healthy living is a state of mind," notes Kemp. "Once Nutrisystem changed my mindset about food, mentally, I moved beyond the short-term idea of 'merely dieting.' You don't have to stop eating—just eat better!"
Do What You Love
The old adage is, "If you do what you love, you'll never work a day in your life," and Kemp feels the same way about working out. "Pain and misery are not a byproduct of exercise, so do something that keeps you in a good mood and feeling positive about exercise," says Kemp. "Every once in a while, change up your routine, so that your body receives a jolt of energy—an injection of kickboxing, hiking, and even trapeze flying will do the trick!"
Be Inspired and Be Inspiring
Share your goals with people -- it can help with those who truly want to understand. "I let my friends and loved ones know that my smaller indulgences were no rejection of our shared love of good food or traditions, but because I wanted to be healthy and continue on my plan. I've met amazing new people along the way and have created a circle of fitness buddies," explains Kemp. "The cycle of inspiration is remarkable."
Chart Your Course
"A lifetime of health and wellness starts with personal accountability," notes Kemp. "I like to think of myself as a 'certified health accountant' because of my commitment to tracking my progress. I've found great success in journaling meals, weight and measurements, water consumption, vitamin and mineral intake, sleep patterns, and even health and self-care appointments."
Be Who You Want to Be
Your opinion of you and your assessment of your self-worth is the most important opinion to consider. "Over the course of my journey to the new me, I learned how to be happy, self-assured, and positively content with myself and my imperfections. You can't put a price on that feeling of pride and self-satisfaction," says Kemp.
*Results not typical.
On Nutrisystem, you can expect to lose at least 1-2 lbs. per week. Individuals are remunerated.
To view additional Nutrisystem success stories like Keishia's, and for more information on the Nutrisystem® SUCCESS® program and to order today, please visit http://www.nutrisystem.com/success4u or call 1-888-841-2572.
About Nutrisystem
Having helped Americans lose millions of pounds over the last 40 years, Nutrisystem, Inc. (NASDAQ: NTRI) develops evidence-based programs for healthy weight management, and is the leading provider of home-delivered weight loss meal plans. Nutrisystem offers balanced nutrition in the form of low glycemic index meal plans designed for men and women, including seniors, vegetarians and the Nutrisystem® D® program for people with diabetes or at risk for type 2 diabetes. Nutrisystem® plans include a wide variety of pantry and frozen entrees and snacks to aid in program satisfaction and adherence, as well as transition plans to support long-term success. The Fort Washington, PA-based company also provides weight management support and counseling by trained weight-loss coaches and registered dietitians, as well as through an engaged online community, online tools and trackers, mobile apps, cookbooks and more. Healthcare professionals may learn more about the programs by visiting http://www.nutrisystem.com/hcp. The Company has also introduced a new in-store retail line, Nutrisystem® Everyday™ products, comprised of nutritionally balanced bars, smoothies, bakery and breakfast items aimed at consumers who aspire to eat healthier.
Keishia Kemp
For additional information about Keishia Kemp visit http://www.keishia.com, http://www.facebook.com/zumbakeishia and http://www.twitter.com/keishiak.