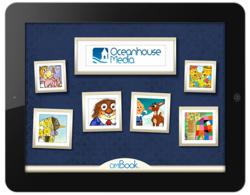 We're always looking for ways to help our users get the most out of their Oceanhouse Media apps.
Encinitas, Calif. (PRWEB) October 10, 2012
OM Bookshelf, the latest bookshelf app from Oceanhouse Media, Inc., is available as a free download in the App Store℠. The app is a new way to organize, browse and launch classic Oceanhouse Media digital books (omBooks) featuring Rudolph the Red-Nosed Reindeer®, The Berenstain Bears®, Little Critter® and Five Little Monkeys® among others.
OM Bookshelf is a follow up to the recently launched Dr. Seuss Bookshelf, the free app exclusively for Dr. Seuss books, games and cameras.
"We're always looking for ways to help our users get the most out of their Oceanhouse Media apps," said Michel Kripalani, President of Oceanhouse Media. "We've listened to consumer feedback and have now developed two outstanding bookshelves to make finding the right book on device convenient for families."
With OM Bookshelf, users can easily locate a desired title, select frequently used omBooks as favorites, instantly launch titles currently on their device and browse the App Store to find more than 75 children's omBooks. A pull-down menu allows for sorting by type, price or age, and a search feature helps locate a specific app. In addition, the bookshelf provides up-to-date information on new releases, free omBooks, sales, special introductory pricing, and suggestions for holidays and special occasions.
About Oceanhouse Media, Inc.
Creators of the award-winning Dr. Seuss book apps, Oceanhouse Media, Inc. is a leading publisher of more than 250 mobile apps for iOS (iPhone®, iPad®, iPod touch®), Android™, NOOK Tablets™, Kindle Fire™ and HP TouchPad™ devices. The company was founded in early 2009 by Michel Kripalani, a veteran of the video gaming industry. Seventeen of the company's apps have reached the number one spot within their categories on Apple's App Store℠. In addition, Google has selected the company as one of its Top Developers, a designation granted to only 150 groups worldwide.
Oceanhouse Media's corporate focus is to uplift, educate and inspire through technology. For more information, visit http://www.oceanhousemedia.com. Follow the company at http://www.facebook.com/OceanhouseMedia and http://twitter.com/OceanhouseMedia.