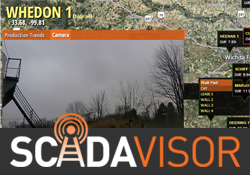 We anticipate a growing demand for well site video surveillance in the future.
Tampa, FL (PRWEB) December 05, 2012
Fielding Systems has announced new capabilities to its digital oilfield platform with the addition of realtime video surveillance to its remote SCADA monitoring service. Fielding Systems customers now have the ability to view live feeds from each monitored site, stream video from their mobile devices and archive everything to Microsoft Windows Azure long term data storage. Fielding Systems feels this addresses an increasing need for security systems to be in place at well sites that store numerous high-value assets in addition to the wells themselves.
Fielding Systems video solution delivers a cost-effective surveillance solution that spans remote, low-bandwidth sites to broadband or mesh-enabled facilities that can stream multiple videos to mobile devices.
"While the integration of video into our ScadaVisor platform to meet security demands is obvious, the initial demand for this solution came by way of customer demand for logistic optimization at their commercial salt water disposal facilities." stated Shawn Cutter, President of Fielding Systems. "We anticipate a growing demand for well site video surveillance in the future."
About ScadaVisor
ScadaVisor is a cloud-based SCADA service for upstream and midstream companies in the Oil and Gas industry. Fielding Systems customers can monitor their assets, analyze production and automatically notify personnel of issues as they arise. The monitoring system allows users to manage and control remote devices such as flow computers, compressors, pump off controllers and artificial lift devices. As a web-based application, ScadaVisor is always accessible from any type of computer or mobile phone with an internet connection. ScadaVisor is offered as Software or as a Service (SaaS) application providing producers of all sizes with the ability to efficiently and effectively monitor remote devices.
About Fielding Systems
Fielding Systems provides cutting-edge web and cloud based Oil & Gas software solutions for midstream and upstream companies of all sizes. The company's software helps producers gain a competitive advantage by optimizing well production, improving well safety and reducing costly downtime. For more information or a demo of the software, visit http://www.fieldingsystems.com or call 877.987.4823.
#########
All product and company names herein may be trademarks of their registered owners.
For more information, contact:
Fielding Systems, LLC
877-987-4823
info(at)fieldingsystems(dot)com