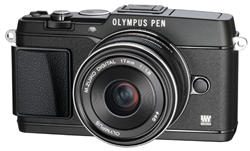 New York City, NY (PRWEB) May 10, 2013
The newly announced Olympus E-P5 Micro Four Thirds format camera, houses a 16.1MP Live MOS sensor and the TruePic VI Image Processor for clear, high resolution still photos and Full HD 1080p video capture.
With ISO sensitivity up to 25600 and 5-axis Image Stabilization, low light imaging is clear and free from the blurring effects of camera shake. Shutter speeds as fast as 1/8000 second and burst shooting up to 9 fps will help catch fast moving subjects and fast autofocus allows the E- P5 camera to keep pace with the action.
A 3.0" Tilt Touchscreen LCD provides image composition and playback. Tilting up 80º and down to 50º, the LCD monitor lets one avoid harsh glare and shoot from odd angles. It also provides touch control of autofocus, shutter release, menu navigation, Art Filter and Scene Mode selection and Wi-Fi connection.
The Olympus EP-5 camera continues in the PEN tradition of handsomely built, slightly retro looking bodies with accessible controls, a seamless build and solid thumb and hand grips. A built-in flash with 1/320s sync speed and wireless capability is provided, as is an accessory port/hot shoe. The accessory port can hold an external flash, video lights, monitors or the optional electronic viewfinder.
Olympus E-P5 incorporates a 16.1MP Live MOS sensor and TruePic VI Image Processor that provides sharp, high resolution imaging, fast autofocus and low-light, low-noise (up to ISO 25600) capability for both still and Full HD video imaging. Performance speeds are also impressive, including up to 9 fps continuous shooting.
5-Axis Image Stabilization built-in sensor-shift type image stabilization compensates for Olympus E-P5 camera shake on 5 separate axes: yaw, pitch, roll, vertical shift and a horizontal shift. The result is that images taken at slower shutter speeds have less blur, providing greater flexibility when shooting in low light or at long focal lengths. Four I.S. modes are available and I.S. for Live View is also supported.
Interval Mode and Multiple Exposure for making time-lapse videos, interval mode shooting is supported to a maximum of 99 frames with the interval time set to between 1 second and 24 hours. Two-frame multiple exposure shots can be taken with the new Olympus E-P5 camera.
Built-In Wi-Fi connectivity provides instant transfer of images to a smartphone or tablet, allowing for simultaneous connection to 4 separate devices. It also offers remote viewing and remote shutter release of the E-P5 from smartphones or devices, and with QR Code connection one can quickly link the camera to a Wi-Fi network.
Built-in flash with a GN of 7 (ISO 100) is provided with several modes and +/-3 compensation. The built-in flash can be used as a wireless flash commander with up to 4 channels, controlling up to three external flashed. 
The E-P5 offers several bracketing functions allowing one to quickly shoot 2-5 frames of the same shot with varied adjustments. Exposure, ISO, White Balance and Flash bracketing is supported as is bracketing for the above Art Filters. Up to 7 shots can be taken to be used later in HDR post-processing for creating a nicely balanced image of a high contrast scene.. 
B&H Photo a qualified Olympus Authorized dealer with the most up to date Olympus product information, product pricing and promotional offers. B&H Photo is currently accepting pre-orders on the Olympus E-P5 PEN Mirrorless digital camera
Connect with B&H Photo on the web! (Facebook, Twitter, Tumblr, Google+, Pinterest, Flickr, YouTube, B&H Insights & InDepth)
About B&H Photo Video
As the world's largest source of photography, video and audio equipment, B&H Photo-Video is known worldwide for their attentive, knowledgeable sales force, and excellent customer service, including fast, reliable shipping. Visitors to the website can access a variety of enlightening articles and educational videos. B&H has been satisfying customers worldwide for close to 40 years.