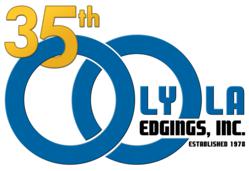 Villa Park, IL (PRWEB) February 21, 2013
Oly-Ola Edgings, Inc., the leading producer of premium grade commercial paver restraint and landscape edging products, celebrates 35 years of successfully serving landscape architects and contractors worldwide. Since day one, Oly-Ola Edgings has concentrated exclusively on producing the most complete line of landscape edging products in the industry with unsurpassed customer satisfaction. All Oly-Ola products are made in the USA of premium, 100% recycled materials. These are backed by a 100% Plus 20-Year Guarantee, the best in the industry.
Proud to be American owned, proud every product is USA-made, Oly-Ola Edgings is choosy as to the 100% recycled poly/vinyl used in Oly-Ola products. A consistent commercial source supplies the raw materials, the majority of which is post-consumer plastics, that ensure that Oly-Ola products are the highest quality—true commercial grade, safe, flexible, and long lasting.
Expert service and customer satisfaction are paramount. Oly-Ola promises the industry's strongest comprehensive guarantee: 100% Plus for 20 Years Includes All Freight and Labor. Oy-Ola's shipping policy is hassle-free. Orders are delivered by the industry's fastest shipping. Oly-Ola maintains a large inventory 12 months a year, so there are no back orders. Oly-Ola customers get the right edging product, delivered to the right place, at the right time. Oly-Ola's expert installation tips ensure the job is done right.
Distributed at more than 2000 locations worldwide, Oly-Ola Edgings' comprehensive line of high quality landscape edging and paver restraint products include: Oly-Ola's new "green" alternative – Teco-Edg™ specialty edge restraint for greenroofs, permeable pavers, aggregate paths, and more; bestselling L-shaped paver restraints - Bric-EdgTM, Bulldog-Edg TM, Bric-Edg II TM , Stone-Edg TM, and Shallow Bric-Edg TM , low profile landscape edgings - Super-Edg TM, Slim-Edg TM; round top landscape edging products - Edg-King TM, Black-Edg Knight TM, Black Jack TM and Trim-Line TM.
Oly-Ola looks to the future and continues to develop new and better ways for Oly-Ola customers to increase their sales and lay the ideal groundwork for creative, beautiful, and long-lived landscapes.
Founded in 1978, Oly-Ola, Edgings, Inc., headquartered in Villa Park, Illinois, USA, produces the most complete line of polyethylene/vinyl edging and paver restraints in the landscape industry. Oly-Ola has an international distributor network and supports many national and state landscape organizations.
For more information, please call or write:
Oly-Ola Edgings, Inc. 124 E. St. Charles Road, Villa Park, IL 60181.
Phone: 800/334-4647. Fax: 630/833-0816.
E-mail: edgings(at)olyola(dot)com