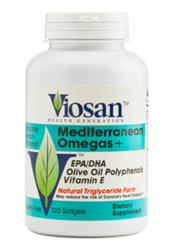 Kissimmee, Fla. (PRWEB) December 13, 2012
Few vitamins and supplements have garnered as much attention as omega-3 fish oil pills have. Omega-3 fatty acids, found in fish oils, are considered essential fatty acids because they cannot be synthesized by the body and must be ingested. Consumption of omega-3 is necessary.
The omega-3 fatty acids eicosapentaenoic acid (EPA) and docosahexaenoic acid (DHA) found in oil from coldwater fish have been linked to a number of bodily and mental benefits. Coupled in fish oils, DHA and EPA are thought to promote cardiovascular health because both DHA and EPA are converted into hormone-like substances called prostaglandins, which are lipid compounds responsible for the regulation of muscle contraction and, thus, healthy cardiovascular function.
Both DHA and EPA have also been linked to positive effects on high blood pressure and inflammation. Although DHA and EPA are powerful in tandem, each has its own advantage individually. DHA is essential in providing optimal neuronal functioning for cognitive abilities and visual acuity, and some studies have shown that EPA, because of its effects on mental health, has a positive affect on depression.
The health benefits of omega-3 fatty acids found in fish oils should be considered toward the optimization of any dietary regimen. Though they can be ingested in the diet, certain limitations may inhibit the adequate consumption of DHA and EPA from whole food sources. Studies show that the adequate daily intake of EPA should be at least 220 mg per day while adequate DHA intake may range from 1,000 – 2,000 mg, requiring about two to three servings of fatty fish (such as salmon) a week. Because allergies or a lack of access to certain whole foods may impede said intake, the ingestion of omega-3 fish oil supplements may prove an integral component to the dietary supplementation of DHA and EPA. Viosan Health's Mediterranean Omegas+ supplement is doctor-formulated with all-natural ingredients to help promote a healthy and balanced life. Viosan Health is offering a free bottle of Mediterranean Omegas+ (a $36.95 value) with an order of $200 or more.
About Viosan Health
The founders of Viosan possess decades of successful and progressive experience in both the healthcare and health products industries. The company is committed to improving the health of every customer by offering a line of pharmaceutical quality vitamins and supplement products that target core health issues and promote healthy living. Viosan Health's doctor-formulated products are distributed by physicians and other health professionals, who recommend the brand to their patients and family members. Many of these same health professionals take Viosan Health products as part of their own strategy for maintaining optimal health, vitality and longevity. All products are made in adherence to strict manufacturing standards as contained in FDA cGMP's (verified current good manufacturing practices). Visit ViosanHealth.com for more information or to purchase vitamins and dietary supplements online.