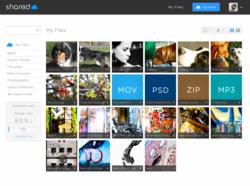 Ultimately, it comes down to creating a service that is intuitive, secure, fast and simple," says Oliver, "We are growing this towards the consumer.
(PRWEB) June 19, 2013
Shared Media, (https://www.shared.com) today announced the open beta of the company's new cloud storage service, Shared.com.
How many songs can be stored with 2 terabytes of storage? Approximately 400,000. That's a lot of music and Shared.com offers a place to put all your files.
With the emergence of consumer products such as Google Glass, the popular line of GoPro cameras and wearable technology accessories, the growing need for additional personal file storage is apparent. Many consumers are outgrowing the total storage capacity of their multiple devices. There is less space for important documents or photos and those who need more are jumping to cloud storage services.
Cloud Storage Usage on the Rise
Shared predicts consumer need for storage will increase by 700-800 percent over the next few years.
Large companies such as Google Drive, Microsoft Skydrive, Dropbox and others have leveraged data storage into a viable and rapid growth business. With the potential upcoming IPO's of two rival companies, cloud storage could gain much more visibility in the not-too-distant future.
"As the quality and volume of content increases, cloud storage is moving incredibly fast towards the mainstream," says Adam Oliver, Chief Executive Officer of Shared Media. A recent report by Strategy Analytics stated that nearly 55% of connected Americans have never used cloud storage. "We think our free service is a great option for anyone looking for online file storage. If additional space is needed, we offer that too."
Fewer Bells and Whistles
"Our goal is to strip away anything that decreases productivity and to focus on key elements. The first is to look at how we improve the overall user experience. The second is to provide a secure system to upload quickly and the third is maximize ease-of-use. Ultimately, it comes down to creating a service that is intuitive, secure, fast and simple," says Oliver. "We are growing this towards the consumer."