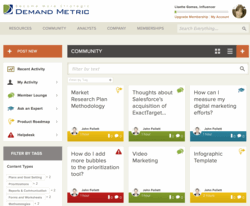 With this new marketing community of over 32,000 members and an Executive-level membership, Demand Metric has a better model for providing deep marketing advice and expertise to the mid-sized enterprise.
(PRWEB) June 19, 2013
Demand Metric today launches a new online marketing community to connect its members and marketing thought leaders to advance the state and practice of marketing in mid-size enterprises. Demand Metric, a marketing advisory firm, will immediately include its 32,000 members in this marketing community. Membership is free and open to any marketing professional or organization looking to share or hone its marketing capabilities.
"We have several goals for launching this marketing community," says Jesse Hopps, founder and CEO of Demand Metric Research Corporation. "We can more broadly share our resources and expertise through an online marketing community. Before, our interaction with members was primarily through email and telephone consultations with individual members. While those modes of communication won't go away, our vision is to take the marketing 'how-to' content that is exchanged this way and put it in the marketing community where everyone can see it and contribute to the discussion."
Another goal for the marketing community is to facilitate interaction between members. "A lot of marketing expertise is embodied in our 32,000 members," Hopps continues. "The Demand Metric marketing community is a mechanism for these marketing thought leaders, including our own analysts, to share their expertise and for others to learn from it. We're employing a gamification strategy – the use of game design to make interaction more fun – to help unlock and share that expertise throughout the marketing community."
The Need for Marketing Community
This new marketing community will provide a source of expertise to an underserved segment: mid-sized enterprises. "There are other firms that provide marketing advisory and research, but their services are affordable only for small segment of the companies that need them," states Hopps. "With this new marketing community of over 32,000 members and an Executive-level membership, Demand Metric has a better model for providing deep marketing advice and expertise to the mid-sized enterprise. There isn't another marketing community in existence that will facilitate authentic discussion around marketing roles and topics in a well-moderated forum that is free from advertising and vendor pitches. We created this marketing community to serve the needs of managers and executives in mid-sized, B2B companies. We understand this segment well since 67 percent of our members have a job title of director or above, and 75 percent of the members are in the B2B segment. Any marketer who fits this profile will find our online marketing community the ideal forum for interacting with their peers."
Benefits of the Demand Metric Online Marketing Community
Membership in the online marketing community is free. Benefits of joining and participating include:

Groups to facilitate networking and interaction around specific roles and topics.
One free download of a Demand Metric tool or template each month.
Access to the monthly Demand Metric Performance Marketing Report which overviews new tools, templates, guides, events and other announcements.
Access to Demand Metric How-to Guides.
Opportunities to participate in benchmark studies.
Unlimited access to the full library of Demand Metric resources and analyst advisory is available through a paid membership to their online marketing community.
About Demand Metric
Founded in 2006, Demand Metric is an advisory firm serving a membership community of over 32,000 marketing professionals and consultants in 75 countries with access to consulting methodologies, advisory services, training and a library of over 500 premium marketing tools and templates. Demand Metric resources enable members to complete marketing projects more quickly and with greater confidence, boosting the respect of the marketing team and making it easier to justify resources the team needs to succeed.
Demand Metric members range from start-ups to consulting firms to members of the Global 1000. To learn more about Demand Metric, please visit: http://www.demandmetric.com.