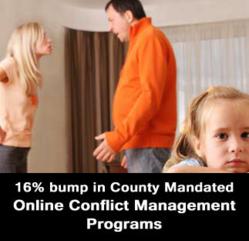 it is better to find a weak solution to the right problem rather than a strong solution the wrong one
Carson City, Nevada (PRWEB) December 13, 2012
Online co-parenting programs have been steadily making their way across the country. With over 20,000 parents signed up to take one of the OnlineParentingPrograms.com online classes over the past 3 years in more than 850 counties. It is no surprise that judges, mediators and family law professionals are seeing the conflict management programs as a welcome addition to a much needed demand. The online conflict management class offers a convenient and flexible way for parents to comply with court ordered mandates in an effort to keep their families functioning peacefully.
OnlineParentingPrograms.com recently added this additional two hour online conflict management program to complement their current co-parenting programs. For any relationship to last, both parties must get their needs met, so it is important to recognize personalities and personality types. This course was developed to help individuals interact in ways that are considerate, respectful and caring towards one another. We recognize conflict exists and finding a resolution takes collaboration and teamwork.
The goal of the program is to assist parents in acknowledging and identifying their emotions and how to find the root of the conflict in order to work on the best solution. Conflict management can be successful if parties stay open to communicating and working together in a peaceful fashion.
"Our conflict management program has been a welcome addition to the family courts when parents are going through a high conflict separation or divorce. This is due to the fact our program is specific to co-parenting and divorce. Our hope is that they will learn how to avoid the most common conflict errors and learn how to communicate and work in conjunction with others. We feel that it is better to find a weak solution to the right problem rather than a strong solution to the wrong one," states Lori LaVigne, Education Planner for OnlineParentingPrograms.com. "We are excited to provide state and county officials additional tools to equip both the mother and father do a better job while co-parenting. We are not surprised by the growing demand as counties are reaching out for tools that will families and keep them out of the courts."
OnlineParentingPrograms.com include interactive video quizzes, real-life applications, and a wide variety of information. Techniques build upon one another enabling parents to work through and master responses, allowing them to become more effective at negotiating and finding a resolution both parties feel good about. This is a "win-win" for everyone.
Michelle Muncy of OnlineParentingPrograms.com says, "The conflict management program is both informative and accessible—a combination that is all too rare in our complex, technology-driven learning environment. We are not surprised at the 16% growth of the conflict management program, my guess is that the numbers will be significantly higher over the next 6 months and we are excited to monitor the data. OnlineParentingPrograms.com recently evaluated their programs to determine the long-term outcome and efficacy of each and every program. Our hope is that we are able to provide quality education at an affordable price to individuals who may not have otherwise received it."
After a simple online registration process, these online parenting classes may be taken at any pace, from the comfort and convenience of home or from any mobile device. When parents feel ready, they take an online, multiple-choice exam; once they've passed, they will receive an email certificate of completion, as well as a hard copy through the postal service that is then delivered to county courts.
OnlineParentingPrograms.com offers a 30-day guarantee on all online programs and is dedicated to better educating and supporting families. We work with experts across the country to educate families in transition. For more information on our experts or for additional questions regarding Extended Learning Center, Inc. visit OnlineParentingPrograms.com
Media interested in setting up an interview with Extended Learning Center, Inc. representatives regarding the online program should contact Michelle Muncy in the development planning office (866-504-2883 or michelle(at)OnlineParentingPrograms(dot)com).