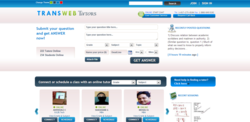 Give a man a fish and you feed him for a day, teach a man to fish and you feed him for lifetime. We believe in the same philosophy. - Nishant Sinha
(PRWEB) April 30, 2013
Sustaining its reputation among students across the globe as the premier Online Tutoring company, TransWebTutors constantly works upon research and development. Keeping in mind the needs of global students, the company has ushered many radical changes in its operations so that students receive effective online tutoring in a timely manner. With the latest features, like Automatic scheduling, Recording of Sessions etc, the company now offers a sense of freedom to the students, seeking for reliable online tutoring services, in choosing the best online academic programs.
TransWebTutors is devoted to the academic development of students worldwide. And with a view to help students prosper, the company offers multiple free trial sessions and ensure refund of money in case the students are not satisfied with the services received or if they fail to secure good grades. In addition, the company gives liberty to the students in choosing their tutors and fixing their prices along with paving the way for them to track their weekly academic schedules. Already hosting the "On-Demand-Scheduled Tutoring" on various subjects and SES/NCLB services in many states, TransWebTutors' personalized voice-based sessions add to the credibility and efficiency of the programs offered by more than 1000 qualified and trained experts, who have undergone a stringent screening and training process before being in a position to directly teach students on particular subjects.
At an event held to announce the newly introduced features, meant for providing customized solutions to students' personal queries, Nishant Sinha, Director of TransWebTutors, stated that "The focus of online tutoring is to guide students to the solution of a problem rather than solving it for the students. Moreover, emphasizing on the economic impact of the business he conveyed that "Private Tutoring Market is surely going to surpass $152 Billion by 2015 globally."
The latest features introduced by this reputed Online Tutoring Company provide low cost tutoring services (ranging from $20 to $35), compared to other online tutoring service providers (charging anywhere between $30 to $50), in subjects like Science, Math, Advanced Math, Engineering, Computer Science, Economics, Statistics, Management, Accounting, Finance, Humanities, Writing etc.
Pioneering the automated platform in E-learning, the company especially draws positive attention from the group of parents and guardians who were never at ease with the concept of a tutor at home or sending their kids out to tutors, considering many possible safety issues. The automated virtual tutoring service is the safest medium facilitated by TransWebTutors.
"My son was not doing well in his studies, particularly mathematics and science; I couldn't afford the $60-70 per hour online tuition that were available in the market. I then came to learn about TransWebTutors offering online tutoring. I thought of giving it a try and today I am a happy and satisfied man" – said Mr. Bishop, who attended the event, to express his gratitude.
TransWebTutors is a leading online tutoring company for global students seeking for personalized academic solutions by the experts on various subjects. The company's expertise in providing professional academic solutions to students is delivered by over 1000 tutors worldwide and support teams functioning from United States. To find out more, please visit http://www.transwebtutors.com.