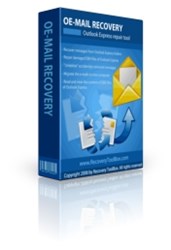 a solution that helps users open DBX files quickly and without leaving their workplaces.
Chikago, IL (PRWEB) April 02, 2013
Recovery Toolbox, a renowned supplier of functional, fast and reliable data recovery tools intended for regular users and IT professionals, is glad to present OE-Mail Recovery, the most recent addition to its vast and growing portfolio. The program is a compact application that requires no third-party components, works in all popular versions of the Windows operating system and enables users to open DBX files damaged in all types of incidents entailing data corruption, from power outages and hardware malfunction to experiments with unknown system software.
The target audience of the product is very diverse and ranges from system administrators in large corporate networks to regular users looking for a way to open DBX files on a regular or ad hoc basis. The interface of the program is simple, intuitive and has the necessary minimum of control elements that help accomplish data recovery in the shortest time possible. ( Read how to use ) OE-Mail Recovery comes with a convenient browser that shows the contents of damaged files and lets users mark all or specific messages for recovery. Recovered messages are saved on the user's hard drive in the *.eml format and can be easily re-imported to Outlook Express or any other email application.
"Our tool opens DBX files damaged to the extent that makes all of its competitors give up," says Victor Bobrov, Senior Product Manager at OEMailRecovery. "The recovery engine in the core of this product uses a combination of intelligent algorithms to get as much data out of damaged files as possible, and many of our customers have already appreciated its power that helped them recover their data in minutes."