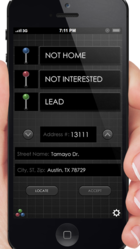 An app that ensures a prospect is never missed and an appointment is never forgotten. - Trey Gibson
Dallas, TX (PRWEB) April 16, 2013
An innovative new app designed to use the phone's built in GPS system to generate mobile sales records for canvassers and outside salesmen launched on the App Store this month. iCanvass is packed full of intuitive features capable of turning any smart phone or tablet into an on-the-go data center.
Built around a knock, tap, keep track motto the app quickly and easily records prospect information for every door knocked on. The savvy salesman can use the app to keep track of all homes or offices visited, mark down doors left unanswered for future visits and whether the contact is classed as a lead or is simply not interested.
iCanvass developer, Trey Gibson said, "The iCanvass App makes door-to-door selling simple. It empowers the professional salesman by acting as a virtual office and lead management system, ensuring a prospect is never missed and an appointment never forgotten. We have integrated everything a canvasser or door to door salesman could ever need in a dynamic and intuitive package. The best thing is no investment in specialized equipment is required – simply download to a smart phone or tablet and start knocking on doors, tapping on screen and keeping track of every person encountered. There is no smarter way to turn traditional canvassing into a slick, efficient operation with user-friendly high-tech tools that get the job done."
Built by professional salesmen, iCanvass is a seamless CRM system which guarantees all prospecting information is recorded right there and then. For visits generating leads, a lead form is created with a single tap and can be used to create a follow up appointment date and save vital information such as name, email address and contact telephone number.
The app goes beyond acting as just a lead recorder however, and gives the user powerful data and sales management tools in the palm of the hand. Information stored in the app can be viewed and sorted in a number of ways, from a map view which pins the location of each lead onto a street map of the area, to day, weekly, monthly or even year at a glance. The lead information can also be exported into a PDF, CSV or Excel file with a tap of the finger.
Developed by Epsilon Holdings LP the app is now available for download from the App Store and Google Play.
To find out more about iCanvass please visit http://www.iCanvassApp.com
About iCanvassApp.com: Knock, Tap, Click. iCanvassApp is the latest feature-packed app from Epsilon Holdings. Developed for canvassers and professional salespeople it records sales data on the go with an intuitive interface, smart lead recording tools and handy map views. It can be used to store details of every door that has been knocked on, who answered and who didn't and set future appointments for follow up.
Contact Details: Issued by Dakota Digital. Please direct further information requests to Rebecca Appleton. Email: Rebecca(at)dakotadigital(dot)co.uk or Tel: 01623 428996.