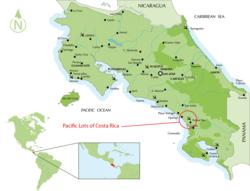 The cost of living in most international retirement destinations is much less than the U.S. Consider these figures from Numbeo, Rent in San Jose, Costa Rica, for instance, is 57% lower than in Philadelphia
Chontales, Puntarenas Costa Rica (PRWEB) December 05, 2012
Pacific Lots of Costa Rica is targeting baby boomers from North America looking to leave the US. Marketing primarily to the North American market, Pacific Lots represents the largest residential developer in Costa Rica. Specializing in the retirement, second home and vacation rental market, Pacific Lots is a major supplier in the market for baby boomers looking to relocate outside the US and Canada. Now in their 23rd year in continuous operation in Costa Rica, the developer is the largest builder of custom homes in Costa Rica and one of the largest employers in the southern region of Costa Rica.
Most of the firm's marketing has focused on the expat market, advertising and partnering with firms like International Living, Escape From America, Expat Exchange and others. The firm exhibits at events such as AARP's "Life at 50" national event held in various cities in the US as well as International Living's "Fast Track Your Retirement" event held for the past 3 years in Las Vegas, Nevada and International Living's "Ultimate Event" being held in Playa Del Carmen, Mexico in 2013.
Pacific Lots also extensively markets internationally, exhibiting recently in events in Mexico, Panama, Costa Rica, Ecuador and Nicaragua as well as the US and Canada. The project was also recently filmed as a feature for an upcoming documentary television series on expats living abroad titled Expats Paradise, expected to air sometime in 2013.
They recently unveiled a new community development of 2 bedroom 2 bath model homes priced from $140,000 to $210,000 complete. The project, one of 17 built in Costa Rica by the developer, includes a community pool and gazebo style club house. This project is located in the incredibly stunning southern Pacific region of Costa Rica, just a few miles from the ocean. Homes feature granite counters, AC in both bedrooms, landscape and all site work. Click here for details on the models and clubhouse.. This is the first project released by the firm to include a complete package, home, land, luxury features, landscaping and community amenities. Until now the firm has focused solely on the market for custom homes and land development, building retirement homes, vacation properties and second homes for North Americans.
This region offers an established community of expats in an international residential community. With over 1000 clients and counting, the developer has built more custom homes than any other builder in Southern Costa Rica. The location of the development was recently made much more accessible by the completion of two new highways. An 80,000 square foot hospital also recently opened just a few miles from the development and there are plans to build a new international airport just to the south. The firm offers 4 day tours of the property for just $299 per person. See details about visiting the property on a 4 day "Discovery Tour" or a 7 day Country and Property Tour..
Many North Americans are moving abroad to stretch their retirement savings, some are investing using their IRA's or retirement savings while others are simply moving some of their savings offshore to hedge against potential devaluation of the dollar. Others are simply looking for a slower paced lifestyle and warmer climate. Costa Rica is noted for high quality healthcare and has become a top destination for North Americans choosing to live abroad.