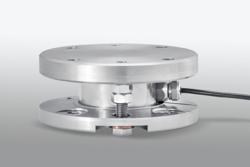 Q50 load cells are low profile, easy to install and have been designed specifically for hygiene-critical applications.
Cardiff, Wales (PRWEB) February 19, 2013
Flintec has launched a new range of load cells and a weigh module designed specifically for vessel and silo weighing in the food and pharmaceutical industries.
The new Model Q50 pancake load cells and associated Model 66-20 weigh module are constructed in electro-polished stainless steel in compliance with the best practice in the food and pharma industries.
Importantly for plant managers and system integrators, the load cells and weigh modules are designed to be hygienic.
Q50 compression load cells are fully laser welded, stainless steel and – due to their circular design – they will not form traps for dirt and dust.
The concept has been extended to the 66-20 weigh module family which is constructed of few parts and has a smooth surface for exceptional ease of cleaning.
The Q50 and 66-20 are ideal for CIP (Clean-in-Place) and SIP (Sterilisation-in-Place) processes.
The superior environmental protection offered by the Q50 load cell family ensures IP69K and IP68 levels of performance.
The combination of both load cell and weigh module offer an exceptional range of weighing capacities within one standardised family – ranging from 500kg for low capacity vessels through to 30,000kg for high capacity storage silos.
At the heart of the Q50 are Flintec's in-house standard features such as the company's own manufactured strain gauge technology and robust glass-to-metal and dry nitrogen sealing technology.
Flintec Group Managing Director David Weeks said, "Until now plant engineers have used our RC3 compression load cells for weighing silos and vessels – and they're great load cells. They are robust, accurate and extremely dependable.
"But the Q50 is the next generation for food and pharma applications. They are low profile – which is very important – easy to install and have been designed specifically for hygiene-critical applications."
The new pancake load cells were complemented by the alloy steel, plated 66-20 weigh modules where lower costs were a consideration, he added.
The Q50 and 66-20 are important additions to Flintec's other process weighing solutions such as the:

RC3 compression column load cell and 55-20 weigh module
SLB bending beam and 52-13 and 52-18 weigh modules
SB4 and SB14 bending beam load cells and 52-13 and 52-18 weigh modules.
Supporting the new family of load cells and weigh modules is the ever growing range of Flintec weighing electronics such as the FAA-25 analogue amplifier and the FAD-30/40 A/D converters. They provide the process weighing market with one of the most comprehensive lines of solutions available.
Flintec is one of the world's biggest load cell manufacturers. The group has design teams in the USA, UK and Sri Lanka.
For further details about Flintec's off-the-shelf and customised load cell solutions, please contact David Weeks, +44 (0)2920 797959.
-Ends-
Information for Editors:
Flintec UK Ltd
W4, Capital Point
Capital Point Business Park
Wentloog Avenue
Cardiff, CF3 2PW
Tel. +44 (0)2920 797959
Fax +44 (0)2920 797939
Flintec is one of the world's largest manufacturers of precision load cells and strain gage electronics – innovating a diverse range of force measurement solutions for customers who demand optimum accuracy, quality and customer service.
Founded in Sweden, the company has focused upon the design and manufacture of strain gages, load cells, measurement electronics and software for a diverse industry base from weighing machinery to new markets in the medical device, industrial and agricultural machinery and process automation sectors.
Flintec is part of the Swedish Indutrade Group listed on the OMX Nordic Exchange Stockholm. Indutrade comprises 160 subsidiaries with 3,800 employees and annual revenues in excess of $1 billion.
Flintec's teams have always actively sought out the most difficult load cell weighing and force measurement challenges. Flintec innovates solutions for applications that rival firms have either ignored or tackled badly.
In recent years, Flintec has expanded with:
two hi-tech major manufacturing facilities in Sri Lanka (at Katunayake and Koggola)
sales, distribution and customer support facilities in the USA, Brazil, Sweden, Germany, the UK, France, Italy, Sri Lanka, China and India
1,000 highly-trained employees committed to developing innovative measurement solutions, maximum accuracy and rapid delivery.
Major sectors served include medical device manufacturing, process weighing, weighing machinery, industrial and agricultural vehicles, test and measurement plus process automation and control.