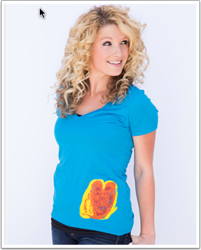 50% of the profit from all Paper Clouds Apparel products sold goes to the special needs school or organization that created the art.
Phoenix, AZ (PRWEB) May 06, 2013
Paper Clouds Apparel What if a t-shirt purchase could give confidence, joy and financial support to a child with special needs? Paper Clouds Apparel, based in Phoenix, Arizona, is doing just that. Every time someone makes a purchase, it makes a difference in the life of children with autism, Down syndrome, and other developmental or medical conditions. Plus, that customer then instantly owns a wearable, limited-edition piece of artwork in just the right size.
The Paper Clouds Apparel tagline says it all: "Helping others has never looked so good." The innovative pay-it-forward business model breaks from conservative charitable giving programs. Instead, Paper Clouds Apparel offers new campaigns, with completely new art, every two weeks. Then, it gives a remarkable 50% percent of its net proceeds to the cause featured in the campaign. Examples include International Down Syndrome Coalition and Autism Speaks.
Paper Clouds Apparel partners with special needs' schools and organizations across the country. The featured artwork is submitted by children from those organizations and transferred to sensory-friendly t-shirts (cotton or extra-soft tri-blend), color prints and greeting cards for purchase via PaperCloudsApparel.com. Prices range from $15-$30.
Founder Robert Thornton discovered his inspiration during a visit home, "My mom was a bus driver for children with special needs. One little girl would draw during her ride to school and give the pictures to my mom. When I was home visiting, I saw one of the little girl's pictures hanging on the refrigerator and was mesmerized. I spent that night staring at this drawing and woke up the next morning with the idea for Paper Clouds Apparel."
And to assist adults with special needs, Paper Clouds Apparel hires these industrious individuals to package orders. As a result, the company provides income and a boost of self-esteem for an overlooked group who might not otherwise have employment.
"Most special needs schools and organizations rely on government funding and private donations to keep their doors open, but this funding has been cut by almost 20% in the past 3 years. By giving 50% of our profits back to these organizations, we help fill the void these cuts have left. And by hiring these individuals, we help provide steady work for a special group of people with over a 90% unemployment rate," Thornton said.
Support children with special needs by making a purchase at PaperCloudsApparel.com and help raise awareness by becoming a fan on Facebook.com/PaperCloudsApparel.
#