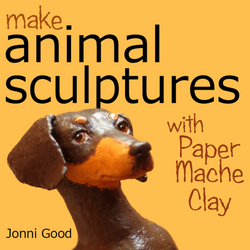 Spreading the paper mache clay over an armature feels much more intuitive than adding layer after layer of paper and paste -- and it's a lot more fun.
La Grande, OR (PRWEB) October 16, 2010
Make Animal Sculptures with Paper Mache Clay was designed to be used as a complete home-study course for paper mache artists of all ages.. Readers can expect to successfully create fairly advanced, life-like animal sculptures on their very first try.
The new techniques shown in this book keep all the fun and creativity you expect from traditional paper mache, but without the traditional mess. It's easy to create realistic details with the home-made clay -- a task that is frustratingly difficult with paper strips and paste; and the patterns take the guesswork out of creating correctly-proportioned armatures.
The paper mache clay recipe uses a roll of cheap toilet paper, white glue, and joint compound (an inexpensive product found at your local hardware store). White flour is added as a filler. One thin layer of paper mache clay, just 1/8 to 1/4 inch thick, replaces the 8 to 10 layers of torn paper strips and paste that are used in traditional paper mache sculptures.
"Spreading the paper mache clay over an armature feels much more intuitive than adding layer after layer of paper and paste," according to the author, "and it's a lot more fun." Textures can be added using knives or found objects, and details can be modeled into the wet clay, which becomes very strong and hard when dry. It takes about 5 minutes to whip up a batch of clay with a kitchen mixer.
The projects in the book include patterns that the reader transfers onto cardboard. The pieces are cut out and assembled according to the instructions in the book. The armatures are completed by filling out the forms of the body, legs and head with crumpled newspaper, which is attached to the pattern with masking tape.
Each chapter builds on skills learned in preceding projects, moving from easy to advanced. The first project is a simplified chicken, which gives readers a fun way to become familiar with creating an armature for their sculptures. Details like the comb, beak and wattles are made out of cardboard. The armature is then covered with a thin layer of paper mache clay and interesting textures are added. As with all of the projects, detailed painting instructions are included.
The next three chapters show readers how to make a brightly colored clown fish, a family of Emperor penguins, and a delightful spotted piglet with big floppy ears. Detailed painting instructions show readers how to recreate the patterns and colors of the real animals with acrylic paint and glaze.
The reader also learns how the author used photographs and simple line drawings to create the patterns for the fish and piglet armatures. Readers can use these ideas to create original sculptures of their own, using their own photos and drawings.
The begging dachshund project allows the reader to learn how to twist and turn an armature to create a dynamic pose. Photos in this chapter also show the reader how to model highly realistic details like the eyes and nose with the paper mache clay; how to texture the wet clay to look like real fur; and how to easily paint realistic, life-like eyes.
The African elephant project gives readers a chance to play a bit more with moving and positioning the armature to give their finished sculpture a unique personality and character. The paper mache clay is textured to look like real elephant skin. The final project is a horse sculpture that uses all of the techniques and skills learned in the previous chapters, plus instructions on how to reinforce narrow legs with wire to add strength and support.
Most of the projects are more advanced than those found in popular paper mache books for kids, but the sculptures can be completed successfully by an artistically-inclined middle-school student. The book is also becoming popular among adult artists who are just now rediscovering paper mache, and professional sculptors have begun using the author's new paper mache recipe and techniques in their work. Art teachers have told the author that they're using the new paper mache sculpting techniques in their classes, and many readers have posted photos of their new animal sculptures on Ms. Good's blog at UltimatePaperMache.com
Make Animal Sculptures With Paper Mache Clay is available on Amazon.com.
About the Author: Jonni Good (1949 - ) lives in La Grande, Oregon. She began drawing and sculpting animals when she was in grade school, and never stopped. She now works full-time as an artist, sculptor, author and blogger, and she owns one of the Internet's most popular websites about paper mache. She has created hundreds of tutorials and posts about the subject on her blog, and her paper mache website has become a major resource for artists from all over the world.
###