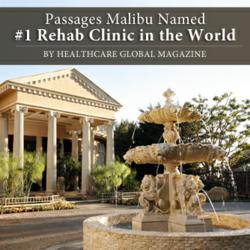 "At Passages, our first-class facilities and staff are a representation of the finest treatment program in the world...."
- Pax Prentiss
Malibu, CA (PRWEB) October 12, 2012
Alternatives to 12-step based rehab programs have been on the rise in recent years and many addiction treatment centers around the country and beyond have been introducing new methods to tackle addiction issues. Holistic and "non disease" models of addiction treatment have been the most sought after methods, particularly for those who do not want to be labeled or feel powerless and hopeless in overcoming their addictive behaviors.
A world leader and pioneer in holistic addiction treatment, Passages Malibu Addiction Treatment Center has announced the inclusion of a new treatment to its already extensive roster of modalities. They call it "Ocean Therapy", a progressive and luxurious method that has already been introduced to the clients attending their Malibu Rehab Center. Since 2001, Passages Malibu has been a world-renowned addiction treatment program, and has established itself as an innovative pillar of the addiction treatment industry by incorporating a non 12-step model of treatment, and a philosophy that does not believe in the disease concept of addiction. They offer more one-on-one therapy than any other rehab center in the world.
Pax Prentiss, who is a former heroin, alcohol and cocaine addict, modeled the Passages program after the individualized therapy and treatment methods that ultimately helped him get sober after many unsuccessful attempts at 12-step based treatment centers. He is now the CEO of Passages Malibu and Passages Ventura Rehab Centers and he recently celebrated 12 years of sobriety.
"At Passages, our first-class facilities and staff are a representation of the finest treatment program in the world. Now we want to expand our treatment from the grounds of our center to the Pacific Ocean, which we are fortunate enough to have right at our doorstep. Through Ocean Therapy, we continue to set the bar even higher by providing our clients with an exciting and intimate outdoor experience," says Prentiss.
As part of its Ocean Therapy program, the Passages Malibu clients now have the opportunity to take a trip aboard the company's private yacht, aptly named "Safe Passage," along with co-founders Pax Prentiss and Chris Prentiss and a professional Captain. The clients will embark from Marina Del Rey and cruise along the coastline, experiencing breathtaking views of areas such as Catalina Island, Palos Verdes Peninsula, Malibu and the Santa Monica mountains. They will also have the opportunity to see and engage with an abundance of local sea life, including dolphins, sea lions and humpback whales. Each client will have the chance to take at least one trip prior to their graduation from the Passages Program.
"We hope that this experience will give our clients a firsthand opportunity to witness the exuberant and healing effects of the ocean. Another goal of our Ocean Therapy experience is to demonstrate how great sobriety can be, and how you can once again enjoy life as well as the overwhelming beauty and serenity of the natural world around us," says Prentiss.
The Ocean Therapy program, in addition to the Ropes Course, Equine Therapy program and Adventure Therapy program, is yet another example of how Passages utilizes dynamic forms of therapy to stay above the fray. "We have know that treating drug and alcohol addiction with group therapy is usually not sufficient to get someone better. By incorporating several different ways to heal, you tap into each person's unique ways of learning," says Prentiss. "While one client may respond to traditional psychotherapy, another may have a breakthrough finding their purpose in the great outdoors. We try to harness each person's individuality and potential, and we believe in our clients and their power to overcome addiction permanently. This is where Ocean Therapy will be an invaluable asset for our clients, our treatment program and our brand as a whole."
Passages Malibu was recently named the "Number 1 Treatment Center in the World" by Healthcare Global, "One of The Most Luxurious Places to Dry Out" by Forbes magazine, and has earned the coveted JCAHO (Joint Commission on Accreditation of Healthcare Organizations) accreditation, which has only been given to 6% of the nation's behavioral health treatment programs. Both Passages Malibu and Passages Ventura accept insurance.
At Passages Malibu: Addiction Ends Here™
About Passages Malibu & Passages Ventura:
Founded by Chris Prentiss and Pax Prentiss, Passages Malibu opened in 2001 with its second location, Passages Ventura, opening in 2009. The two drug and alcohol abuse treatment centers offer an alternative to the 12-step/AA model of addiction treatment by using a holistic approach and a program that focuses on the underlying issues of substance dependency, rather than suggesting that addiction is an incurable disease. Both Passages Malibu and Passages Ventura accept insurance and have earned the coveted JCAHO (Joint Commission on Accreditation of Healthcare Organizations) accreditation, which has only been given to 6% of the nation's behavioral health treatment programs. The co-founders are also authors of the acclaimed series of treatment books that include their groundbreaking flagship book, The Alcoholism & Addiction Cure. For general inquiries about treatment, contact: 866-233-1753
For more information on Passages Addiction Rehab Centers visit:
Passages YouTube Channel
Passages Facebook Fan Page
Follow Passages on Twitter
For media inquiries, contact:
press(at)passagesmalibu(dot)com