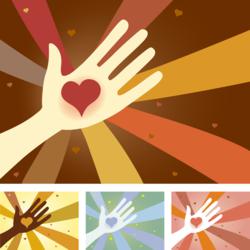 These very special people share their time and energy with patients and their families at a very challenging time."said Shaguna Wilkes, Director of Volunteer Services at Pathways Home Health & Hospice
Sunnyvale, California (PRWEB) April 16, 2013
Pathways Home Health & Hospice will celebrate National Volunteer Week by honoring its hospice and palliative care volunteers at three appreciation events. A total of 507 dedicated volunteers provided 20,632 hours of care to patients and their families during the course of a year. Hospice volunteers offer support, companionship and a sense of community to patients and their families who are facing a serious or life-limiting illness.
"Our hospice volunteers' acts of compassion both large and small bring our patients comfort and company," said Shaguna Wilkes, Director of Volunteer Services at Pathways Home Health & Hospice. "These very special people share their time and energy with patients and their families at a very challenging time. A short visit, a listening ear, reading a book, a simple walk, no matter what the activity, the gift of time leaves a lasting impression on our patients and families."
Volunteers receive specialized training in preparation for working with patients and their families. The services provided by volunteers can include visiting patients and their families, calling on the bereaved, reading to patients, or simply being there when someone needs a little help. Many volunteers also donate business expertise with administrative support or fundraising assistance.
To explore volunteer opportunities at Pathways, visit the volunteer section of our website or call a volunteer manager in your geographic area. In Santa Clara County call 408.773.4271; in Alameda & Contra Costa Counties call 510.613.2017; and in San Francisco and San Mateo Counties call 650.808.4604. Or contact by email at vservices(at)pathwayshealth(dot)org
Pathways Home Health & Hospice will host future volunteer training sessions in July and October 2013. No previous hospice and health care experience is needed. Volunteer assignments are tailored to volunteers' geographic preferences and schedule.
About Pathways Home Health & Hospice
Pathways Home Health & Hospice is a non-profit, community-based organization with more than 36 years of assisting Bay Area families. Pathways was founded in 1977 by a group of Stanford physicians and community members who saw the need for professional care at home. That first year, Pathways served 12 patients. Pathways now serves over 5,000 families a year in San Francisco, Alameda, Santa Clara, San Mateo and Contra Costa Counties.
Affiliated with El Camino and Sequoia Hospitals since 1986, Pathways Home Health & Hospice is accredited by The Joint Commission, and is a member of the Visiting Nurse Association of America, California Hospice & Palliative Care Association, and the California Association of Health Services at Home. Pathways Home Health & Hospice is a designated 2012 HomeCare Elite Agency for Quality Care.
For more information about Pathways services, bereavement services, grief workshops, volunteering, or making a donation in support of Pathways' families, call 1.888. 755.7855 or visit http://www.pathwayshealth.org/