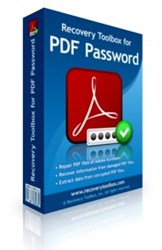 most powerful and efficient tool for PDF password recovery on the market
Alexandria, VA (PRWEB) October 08, 2012
A recent addition to the extensive Recovery Toolbox line of products, Recovery Toolbox for PDF Password is a compact, yet powerful and flexible tool for recovering partially lost or forgotten passwords from Adobe PDF files. The software supports all types of encryption and password protection used in PDF files of all versions and enables users to recover both user passwords (passwords to open) and owner passwords (passwords to modify). Record PDF password recovery speed is attained through the use of fully configurable password masks that help minimize the range of unknown characters to be processed by the program. At the same time, the mask constructor is simple and intuitive enough to be used by people with zero experience in password recovery.
"Our solution targets users of all skill levels, so there is no need to be a cryptologist to use our program with ever-high efficiency, " says Victor Bobrov, one of the developers of Recovery Toolbox for PDF Password. "With our convenient password wizard and exemplary use of multi-threading on multi-core CPU's, PDF password recovery becomes easier than you ever thought."
About Recovery Toolbox
Founded in 2003, Recovery Toolbox is currently the leading provider of data recovery tools for a broad range of programs. The growing portfolio of Recovery Toolbox consists of over 30 award-winning solutions intended primarily for mainstream applications used by millions of people worldwide. The company is committed to creating intuitive and user-friendly tools that help regular users solve complex data recovery and migration problems on their own.
Software page: http://www.recoverytoolbox.com/pdf_password.html
Read more at: http://www.recoverytoolbox.com/