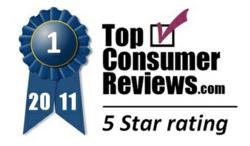 We're pleased to receive TopConsumerReviews.com's highest rating... Thank you for recognizing the strong value that PetCareRx offers pet owners.
Overland Park, KS (Vocus/PRWEB) January 31, 2011
TopConsumerReviews.com recently awarded their highest five-star rating to PetCareRx, an industry leader in Pet Medication providers.
"We're pleased to receive TopConsumerReviews.com's highest rating," said Natalie Bonacasa, Marketing Manager of PetCareRx. "PetCareRx was established to give you the products you need, at the discounts you deserve, by supplying pet medications and all of your pet's other health needs at a fraction of what they cost when dispensed by a veterinarian. We carry all EPA and FDA approved medications for heartworm, flea and tick, chronic illnesses, and more. Thank you for recognizing the strong value that PetCareRx offers pet owners."
For pet owners, a beloved pet is a part of their family. Caring for them is a top priority. However when their pet gets sick, buying prescription medications from a veterinarian can be very expensive. Preventative medications such as flea treatments and heartworm pills can also cost hundreds of dollars each month - especially if more than one pet is in a home. Buying pet medication online is an excellent way to save money.
"PetCareRx is an easy-to-use, certified, pet medication pharmacy website. Their products are FDA and EPA approved, and pet owners can purchase just about anything on the website - from pet medications and prescriptions to pet food, toys, treats, bedding, and grooming supplies," explained Brian Dolezal, of TopConsumerReviews.com, LLC. "With such a large selection of pet-related products, great pricing, free shipping, and a 30-day return policy, PetCareRx earns our highest rating."
To find out more about PetCareRx and other pet medication providers, including reviews and comparison rankings, please visit the Pet Meds category of TopConsumerReviews.com at http://www.topconsumerreviews.com/pet-meds.
About PetCareRx
PetCareRx is the leading online licensed pet pharmacy in all 50 US States. PetCareRx dispenses the same EPA & FDA approved medication as regular veterinarians but up to 50% the recommended retail price. PetCareRx works hard to bring to their customers the highest quality EPA and FDA approved medications at the lowest prices available. Ordering refills with PetCareRx is as simple as 1-2-3! If you have placed an order with PetCareRx in the past, you can simply log into your account, view your past orders, and add items straight to your current shopping cart.
About TopConsumerReviews.com
TopConsumerReviews.com, LLC is a leading provider of independent reviews and rankings of hundreds of consumer products and services. From cash advances and elliptical machines, to jewelry and pet insurance, TopConsumerReviews.com delivers in-depth product evaluations in order to make purchasing decisions easier.
###