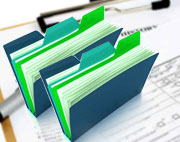 Simply put, EMR is a versatile system that can provide an office with the right kind of marketing and analytic tools to work with.
(PRWEB) December 04, 2012
Physical therapy today is an integral part of proper medical care. The practice encompasses a very broad range of needs for all types of injuries, physical needs and recovery from all manner of surgeries. With physical therapy software and electronic medical record (EMR) keeping, this process is now becoming more efficient and streamlined to better meet both the doctor and patient's needs. EMR also allows for more efficient billing, record keeping overall and makes it easier to add patient-scheduling software to the system.
Recently, Chhoda announced ways in which all practices and medical businesses could benefit from EMR and stated how it can help. "EMR provides for therapists a much easier means in which a patient's documents and medical history can be saved," said Chhoda. "Just think, no more worrying about lost records. No more worrying about coding errors in billing. It can even help speed up a payment process an office has set up. Simply put, EMR is a versatile system that can provide an office with the right kind of marketing and analytic tools to work with."
While old-fashioned paper records are still being used today as a way of keeping a patient's medical history, EMR offers far more advantages, with storage room and maintenance as a prime example. EMR allows instant transfer and saves a lot of needed time and money for offices. With EMR, faxing and transportation costs can be eliminated and the system helps create for a more efficient record keeping system.
Chhoda's office can be reached by phone at 201-535-4475. For more information, visit the website at http://www.emrnews.com.
ABOUT NITIN CHHODA
Nitin Chhoda PT, DPT is a licensed physical therapist, a certified strength and conditioning specialist and an entrepreneur. He is the author of "Physical Therapy Marketing For The New Economy" and "Marketing for Physical Therapy Clinics" and is a prolific speaker, writer and creator of products and systems to streamline medical billing and coding, electronic medical records, health care practice management and marketing to increase referrals. He has been featured in numerous industry magazines, major radio and broadcast media, and is the founder of Referral Ignition training systems and the annual Private Practice Summit. Chhoda speaks extensively throughout the U.S., Canada and Asia. He is also the creator of the Therapy Newsletter and Clinical Contact, both web-based services to help private practices improve communication with patients, delivery better quality of care and boost patient retention.