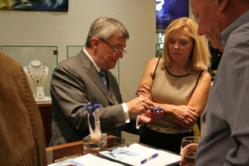 "Supporting Bob Jones Nature Center and any nature center is our duty, because all creativity comes out of nature. The wearer of fine jewelry will appreciate fine jewelry that is closest to nature," said Pieter Andries
Southlake, Texas (PRWEB) December 05, 2012
Pieter Andries, certified gemologist and founder of Pieter Andries, Creators of Fine Jewelry based in Southlake, was proud to be the Diamond Sponsor for the Bob Jones Nature Center and Preserve's "Naturally Sweet" fundraising event on November 3rd, 2012.
The Bob Jones Nature Center and Preserve is a City of Southlake park and home to hundreds of species of fauna and flora spanning over 700 acres in Cross Timbers. This year marked the fourth annual "Naturally Sweet" fundraiser benefitting the center, and the theme was "Savoring our Past while Preserving our Future."
The event featured live music, sweet and savory tastings from noted restaurants from the area, an exhibit showcasing local artists, and a silent auction benefitting the Bob Jones Nature Center. In addition to being diamond level sponsors, Andries and his wife, Marilyn, were honorary co-chairs of the event.
Andries hosted a pre-party for the event at his Southlake jewelry gallery on November 1st where his staff provided hors d'oeuvres, wine, and auctioned off six gemstone bird carvings from Andries' private collection. The collector's value of the birds was $8,900 and all proceeds raised were donated to the Bob Jones Nature Center Organization.
"Supporting Bob Jones Nature Center and any nature center is our duty, because all creativity comes out of nature. The wearer of fine jewelry will appreciate fine jewelry that is closest to nature," said Pieter Andries, certified gemologist and president of the Southlake-based custom jewelry store, "Wherever we have an opportunity to support nature, we will be there."
Proceeds from this year's event supported the development of interactive and informational signage for the Preserve's Bluebird Trail as well as the expansion of the organization's outreach program to underserved communities in the region.
About Pieter Andries, Creators of Fine Jewelry
Whether it is a redesign or a dream about to become a reality, the creative design expertise that Pieter Andries has cultivated over 40 years, as a Master Goldsmith and American Gem Society Certified Gemologist, is reflected in each of his creations. Skilled professional craftsmen work under the direction of Pieter Andries utilizing state-of-the-art equipment and design technology to create a masterpiece of perfection and beauty – including diamond engagement rings, wedding bands and custom jewels. Offering the largest selection of rare, conflict-free diamonds in North Texas, Pieter Andries guarantees customer satisfaction of every piece of jewelry he creates. At Pieter Andries, it's all about YOU! For additional information, call (800) 233-3459 or go to http://www.pieterandries.com.
About the Bob Jones Nature Center organization
The Bob Jones Nature Center organization is a 501c3 non-profit organization working in association with the City of Southlake and is dedicated to the preservation of the Cross Timbers ecosystem and natural resources. For more information, call 817.939.1110 or e-mail director(at)bjnc(dot)org. The phone number for the facility is 817.491.6333.