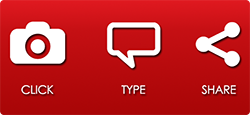 Definitely one of the coolest Apps I've seen created for Facebook. Take fun pictures at your event, and share it with the world!
Columbia, MD (PRWEB) May 12, 2013
Pixe Social is custom designed to provide guests at a restaurant with a memorable and enjoyable experience.
Pixe Social enables businesses to leverage photomonials from their existing customers to reach out to a phenomenally large base of potential customers on leading social media sites, thus converting audiences into brand ambassadors.
Launched in April earlier this year, Pixe has already helped a number of brands and events, including ad:tech, Bosley and Hunt Valley Horsepower, significantly strengthen their social media presence and organically expand their viral reach on Facebook and Twitter.
Visitors to the Pixe Photo Booth love to use colorful props and come up with witty phrases in appreciation of the hospitality they enjoyed at an establishment or event.
Pixe Social's photo booth feature incorporates real-time integration with Facebook and Twitter, enabling fans to post pics along with rave reviews directly to a restaurant's Facebook page album and Twitter feed. The photos are also streamed instantly to a photo wall onsite to attract other guests at the venue to the Pixe Photo Booth.
Users can add their own Twitter handle as well as request an electronic copy of their photo, providing marketing teams with a golden opportunity to reach out to them with targeted promotional messages.
Though extremely powerful and innovative, Pixe Social enables businesses to promote their brand online at a fraction of the cost of traditional marketing tools. Additionally, users often express their amazement at how intuitive the Pixe interface is, and that the entire process takes only a few seconds from end to finish.
About Pixe LLC
Pixe LLC is a Maryland-based start-up providing cutting edge social marketing solution that is on a mission to take the challenge out of social media marketing by converting audiences into brand ambassadors. The company's flagship solution - Pixe Social - enables businesses to tap into their current customer base effortlessly and exponentially extend the viral reach of their brands with a fun and engaging photo booth solution.
Generations ahead of conventional photo booths, Pixe Social is deeply integrated with the leading social media platforms such as Facebook and Twitter, ensuring that photos with glowing testimonials are posted to a brand's social media pages, Pixe Photo Wall as well as emailed to Pixe users in real-time. For more information, visit http://www.pixesocial.com.
Related links: