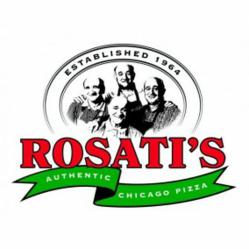 We're thrilled about the opening of our new location and all that we are now going to be able offer our customers
SPRINGFIELD, MO (PRWEB) April 29, 2013
Rosati's of Springfield, the area's premier and highly sought-after authentic Chicago pizzeria, is excited to announce a new location that features a larger seating area. Additionally, Rosati's is now offering customers expanded menu offerings, including beer and wine.
Prior to moving to its new location at S. Kimbrough St. in Springfield, Rosati's offered very limited seating and primarily catered to delivery customers. With the new location, Rosati's now features over 80 additional seats, including space for 55+ customers inside and 20+ customers outside.
"We're thrilled about the opening of our new location and all that we are now going to be able offer our customers," said a spokesperson for Rosati's. "We're known in the Springfield area for making the best pizza, and we wanted to be able to provide our customers with not only convenience but also dining options so that we can continue to serve their needs and be the go-to location for pizza in Springfield."
The full-sized Rosati's location still provides customers with the same delicious, made-from-scratch, authentic, Chicago-style pizza that was available at the previous location, but diners can enjoy the atmosphere and array of menu options in the new space.
In addition to dine-in, Rosati's provides delivery, catering and carry-out, to meet the needs of any customer. With the new location, the delivery area will remain the same, so customers will continue to be able to enjoy the convenience of this service from Rosati's.
All dough is made from scratch, with only the freshest, hand-cut ingredients. Rosati's consistently receives excellent feedback from customers, and is recognized as being the preeminent pizza restaurant in Springfield. Rosati's website can be viewed at http://rosatisspringfield.com/.
About Rosati's
Rosati's of Springfield is an authentic Chicago-style pizzeria. The menu features not only hand-tossed pizzas, but also pasta, calzones, sandwiches, subs and more. Contact Rosati's at 417-877-2008 or visit the new location at 3046 S Kimbrough St. Springfield, MO 65807.