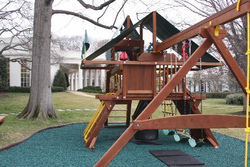 Rubberecycle playground mulch is not only sound for environmental reasons but it protects kids from dangerous falls
Lakewood, NJ (PRWEB) August 12, 2010
Rubberecycle recognizes findings from a new study that again confirms the safety of using recycled rubber for athletic fields and playgrounds. The study looked at children and adults and found no elevated health risks. The announcement from the Connecticut Department of Public Health (CDPH) validates findings from separate studies conducted by five other agencies and that of playground rubber mulch.
The two-year study by the Department of Environmental Protection (DEP) looked at fields containing crumb rubber infill, which is recycled rubber. The study was a joint effort between four state agencies – the University of Connecticut Health Center, the Connecticut Agricultural Experiment Station, the Department of Public Health and the Department of Environmental Protection (DEP). In addition nine scientists from the Connecticut Academy of Science and Engineering (CASE) reviewed the study.
Recycled rubber is also a safe choice for playgrounds and the same recycled rubber surface used by Little League teams. It has been recommended by those who treat children for playground falls – one of the most common injuries (see this video about playground safety).
"Recycled rubber has been again studied and found to be safe for our children. Rubberecycle notes that this is the surface the Obamas chose to use on the White House playground. Rubberecycle playground mulch is not only sound for environmental reasons but it protects kids from dangerous falls," said Keith Sacks, Vice President of RubbeRecycle.
Other agencies to report similar findings of the Connecticut study include: the U.S. Consumer Product Safety Commission (CPSC), U.S. Environmental Protection Agency and other governmental agencies, including the New York State Department of Environmental Conservation and Department of Health, the New York City Department of Health, and the California EPA.
Additional details of the study found no elevated health risks from outdoor and indoor artificial turf fields due to the inhalation of volatile or particle bound chemicals. Readings at an indoor field were below levels of concern but ventilation is recommended. Water quality was also evaluated. Storm water runoff from artificial turf fields was found to pose no risk to drinking water. There is a potential risk for surface waters and aquatic organisms due to higher zinc levels. The EPA and NY State Department of Environmental Conservation used different test methods and found zinc levels were well below levels of concern to the same group.
In over 40 years of EPA oversight and OSHA regulated manufacturing, there has never been an instance of illness attributed recycled rubber on playgrounds or its use for synthetic turf. Instead, recycled rubber is a sound environmental solution. Rubberecycle processes between 10,000 and 12,000 tires a day and is designed to handle 2 million scrap tires annually, so it is part of the solution.
The Connecticut study can be viewed at ct.gov/dep/artificialturf
EPA Recommendations can be found at http://www.epa.gov/waste/conserve/tools/cpg/products/playgrnd.htm
About Rubberecycle
Rubberecycle introduced top quality rubber surfacing products to the commercial, residential and military markets in 1998. Our playground mulch conforms to all CPSC, ASTM, and IPEMA (The International Play Equipment Manufacturers Association) safety guidelines and is ADA approved. The pioneer in the tire recycling industry, Rubberecycle utilizes the most advanced technology and equipment to recycle tires on site.
For more information about recycled rubber products, including for playgrounds go to http://www.rubberecycle.com/
# # #