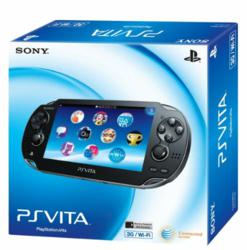 Detroit, Michigan (PRWEB) October 07, 2012
SportsFanPlayground.com announces that the store has marked down the Playstation Vita to $229.99, while supplies last. The console is the wi-fi version.
The console can play various content, including PS One games, music, video and other PSP games downloaded from the Playstation Store. The system comes equipped with 2 digital cameras (front and rear), 5-inch touch screen, as well as dual analog sticks.
The store also has the Madden NFL 13 Playstation Vita bundle available for $220.00, down from the retail price of $249.99. The bundle comes with the Vita console, as well as the recently released Madden NFL 13 video game. The store is also taking preorders on upcoming Vita bundles for Call of Duty: Black Ops Declassified and Assassin's Creed III.
In terms of accessories, SportsFanPlayground.com has deals on the Vita memory cards, with markdowns up to 38% off. The cards are available in 4GB, 8GB, 16GB and 32GB sizes.
For more information, visit SportsFanPlayground.com.
About The Sports Fan Playground -
SportsFanPlayground.com is a leading online e-commerce provider of electronics which range from tablets, PCs and cameras to video games, DVDs, Blu-Ray Discs, appliances, lawn and garden products and more.
The store also carries the top brands in electronics and apparel including Nike, Adidas, Apple, Sony, Samsung, Microsoft, EA Sports, and many more. The company recently began its initial expansion into clothing and jewelry and will continue to expand over the next several months.
The store recently launched an online grocery store service to further the growth of its brand. The service will allow for food items to be delivered in bulk, such as meats, breads, breakfast items, and more.