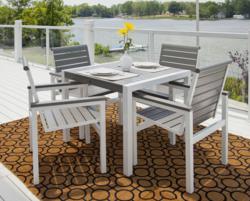 PolyWood Furniture is Made in the USA from Recycled Materials!
Chicago, IL (PRWEB) December 05, 2012
Already touting over 20 Polywood collections available for purchase, and with the year coming to a close, FurnitureforPatio.com is looking ahead to the 2013 season. Staying current with PolyWood's growing catalog, FurnitureForPatio.com now has three new collections ranging from classic to contemporary style (Signature, Coastal, and MOD) ready to be custom ordered and shipped to your backyard, and with free nationwide shipping on all new Polywood products/collections, all you have to do is click, customize, buy, and enjoy.
Capturing the classic look of refined outdoor wooden furniture, the Signature Collection features a wide back and seat design. The all-around style allows this collection to transition between outdoor elegance and casual comfort with the greatest of ease. As a very precise selection of seating options, The Polywood Signature Collection is only a four chairs, however all can be paired with any of the PolyWood tables. These 4 chairs include custom color options and are made readily available in one of seven of Polywood's traditional finish colors.
Taking a step in a new direction, PolyWood is introducing the Coastal furniture which is their first collection that features a durable sling fabric for its seating. Much like the Signature Collection, the Coastal Collection also offers dining chairs, counter and bar height chairs, as well as a convenient folding chair. The sling for the furniture is great because it is quick drying and is a tear resistant material, that comes in a refreshing white color to play off the seven traditional colors that Coastal's plastic lumber frame comes in. The Coastal Collection is aptly named for its styled reflection of the carefree Oceanside lifestyle and while ideal for use beach and/or poolside, Coastal seating will bring that laid back attitude to any outdoor living space.
Rounding out the new 2013 collections is the ultra-modern styling of the Polywood MOD collection. Taking inspiration from the popular Euro collection, the MOD arrives on the scene with a sleek sense of artistic minimalism and is perfect for the patio enthusiast looking to give their space a contemporary uplift. The 11 piece collection offers up a variety tables in different sizes with clean edges and straight legs, as well as a bench and a dining arm chair to match. MOD combines the company's plastic lumber slats, available in both traditional and vibrant color options, with durable aluminum frames that offer both form and function as an appealing contrast to the plastic wood slats and as durable support. Like the slats, the aluminum frames of the tables and seating options of the MOD Collection are customizable and you have your choice of 5 different aluminum finish options for a dual color look that best fits your own style and personality.
Whether in the market for an individual product or perhaps an entire set featuring one of these new Polywood collections, visit http://www.furnitureforpatio.com to check out the 2013 MOD, Signature, and Coastal collections for yourself, or any other great selections from this eco-friendly developer of high-quality casual patio furniture.