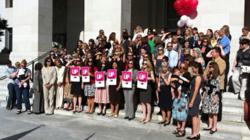 The California Legislative Women's Caucus is proud to stand with mothers, advocates, healthcare professionals, and others in recognition of Perinatal Depression and Maternal Mental Health Awareness Month
Los Angeles, CA (PRWEB) May 03, 2013
Advocates, law makers, physicians, mental health professionals, insurance company representatives and other experts will convene at the California State Capitol on Monday, May 6 at 9 a.m. PT to host a press conference and expert panel on emerging issues in maternal mental health. The event is intended to help bring awareness, education and assistance to the growing concern of postpartum depression that occurs in at least 20 percent of new mothers.
The events are being co-hosted by the California Maternal Mental Health Collaborative (http://www.camaternalmentalhealth.org/), the American College of Obstetrics and Gynecology (http://www.acoog.org/index.aspx) and the California Legislative Women's Caucus (http://womenscaucus.legislature.ca.gov/).
According to Postpartum Support International, up to 80 percent of moms will experience what is referred to as the "baby blues" which include symptoms like sadness and episodes of crying. The baby blues resolve naturally without treatment generally within two weeks. However, 20 percent new mothers will go on to experience something more serious, such as clinical depression or anxiety. Due to a complicated set of factors, most are never diagnosed and never receive treatment. The impact is dramatic, both on the mom and her ability to function, but also on the stability of the marriage relationship, and can have life-long impact on a child, whose mental state during infancy can be negatively impacted.
"The California Legislative Women's Caucus is proud to stand with mothers, advocates, healthcare professionals, and others in recognition of Perinatal Depression and Maternal Mental Health Awareness Month," said Assemblywoman Bonnie Lowenthal, D-Long Beach, and Chair of the Caucus. "We're coming together to raise awareness, reduce stigma, and ensure that no one suffers in silence."
The morning will begin with a rally and press conference at 9 a.m. PT on the steps of the north side of the state capitol building in Sacramento. Rally participants include representatives from the Junior Leagues of California. The theme is "What Color Were You, Red or Blue?" to illustrate those who suffer from either anxiety or depression during pregnancy or the postpartum period. Several speakers and proponents will provide their perspectives, including: Judy Mikacich, MD and California Maternal Mental Health Collaborative President and (ACOG) Representative; state Senator Kevin De Leon; and, Rebecca Blanton, Executive Director of the Commission on the Status of Women and Girls.
The event resumes with an expert panel from 9:45 a.m. – 12:30 p.m. PT in capitol assembly room 4202. Topics include: Supporting Dads; Brain Stimulation treatments, including the still controversial form, Electro Convulsive Therapy; and, When a Postpartum Mother Murders Her Child: Opportunities to View Cases Differently. Multiple speakers will present, including Harvard Graduate-trained Psychiatrist Kira Stein, MD and Will Courtenay, PhD, "The Men's Doc."
For a complete agenda of the day's events or more information, visit the California Maternal Mental Health Collaborative (http://www.camaternalmentalhealth.org/).
About the California Maternal Mental Health Collaborative
Formed in September 2011, The California Maternal Mental Health Collaborative is in part the result of the passage of Assembly Concurrent Resolution 105, which declared May as Perinatal Depression Awareness month in California. ACR 105 also urged private and public stakeholders to form a volunteer task force to address opportunities for increasing awareness of and screening for maternal mental health disorders. The collaborative includes over 30 members representing for-profit, non-profit, and government organizations, including representatives from the regional collaboratives/task forces in the state of California. Its members include a wide representation of the community: medical and mental health professionals, educators, community advocates, and individuals who have experienced these disorders.
# # #