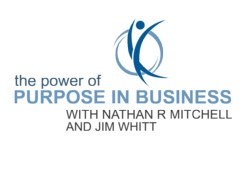 Tulsa, OK (PRWEB) October 13, 2012
Nathan Mitchell, founder of Clutch Consulting and Jim Whitt, founder of Purpose Unlimited are teaming up to present Managing Career Transition in Tulsa, Okla. on Saturday, November 10th from 9:00–11:00 a.m.
Mitchell and Whitt are using their own career transition experiences as the template for their program. After nearly a dozen years as a mid-level manager with a Fortune 50 company Mitchell knew he had to do something different. "There's no easier way to say it, but I was simply unhappy and unfulfilled in my work. The organization I was working with was going through a lot of change. I had to learn to either live with that or take responsibility and change it. I always had this feeling that I was meant for something more – to serve a purpose, to contribute something of value to the world, and I was willing to pursue that with everything I had." That resulted in the transition to his current career as founder of Clutch Consulting which he started to "Grow Businesses and Empower People." His recently published book, Turn That Frown Upside Down: Discover Meaning & Fulfillment in the Workplace, takes readers on an allegorical journey of a man who is searching for and finds answers about his career path.
Whitt founded Purpose Unlimited to transform lives, leaders and organizations through the power of purpose. He has more than 20 years of experience helping people find their purpose in life and identify career paths to fulfilling it: "My life was transformed when I discovered my purpose in 1988. It set me on the path to my career as a consultant, writer and speaker." Whitt developed a process to help others do the same and documented it in his book, The Transformational Power of Purpose: Finding & Fulfilling Your Purpose in Life.
Those who register for the Managing Career Transition program can expect to learn how to discover their Purpose in life, how to identify their unique talents and strengths, how to find a career that fits their Purpose, talents and strengths, how to design a resume that sells them to prospective employers and how to find meaning and fulfillment in their career and life.
The registration fee for the program is $20. All participants will receive a behavioral strengths assessment, a copy of Nathan Mitchell's book, Turn That Frown Upside Down: Discover Meaning & Fulfillment in the Workplace and a one-on-one career coaching session. To register go to http://www.PowerOfPurposeInBusiness.com or call (918) 851-7246.
Mitchell and Whitt cofounded The Power of Purpose in Business to deliver purpose-based people and business development solutions. Managing Career Transition is the second in a series of programs they are offering in the Tulsa area.