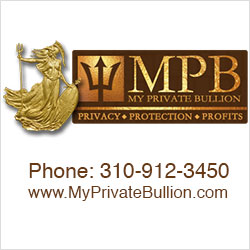 our services should not be all about charging fees, they should be about how much value we can add
Los Angeles, CA (PRWEB) April 02, 2013
My Private Bullion (MPB) announces today that it is offering the lowest Gold IRA fee structure in the entire precious metals industry. All clients opening up new gold IRA's or transferring existing IRA's over from other gold companies, IRA custodians, or depository storage locations will enjoy complimentary setting up of their new accounts, along with complimentary annual, processing and precious metal storage for the initial two year period. Typically, IRA account holders are subjected to a fee structure that includes but is not limited to account set up fees, annual maintenance fees, processing fees, transaction fees, purchase fees, exchange fees, funding fees and storage fees.
The Company believes this offer will help retirement account holders to save money and provide the potential for greater overall returns in their accounts. "This is another way for us to offer more value to our clients and not just talk about it," said sales manager and retirement plan specialist Tom Kelly. He adds, "We wanted to do something that, as far as we knew, had never been done before, and would offer customers a way to achieve more overall investment return during an economic climate that has been punishing people who save and invest for the long term. This helps combat a lot of the nickel and diming that IRA holders experience."
According to managing director, Alex Viera, "MPB believes it is the first and only gold and precious metals company in the industry that we know of to make an offer of this kind for IRA retirement plan holders." The recent move to eliminate the client's first two years worth of all IRA transactional and storage fees is the latest in an ongoing series of innovations that MPB has in store for 2013. Viera adds, "Our services should not be all about charging fees, they should be about how much value we can add."
In addition to this new offer, My Private Bullion continues with its tradition of offering all clients, individual and business, with free shipping on all retirement plan precious metal orders.
To learn more about retirement plan investing in gold and other precious metals, please visit http://www.myprivatebullion.com or call 310-912-3450.
About My Private Bullion
At My Private Bullion, individual service, asset protection strategies and wealth management solutions are the foundation of our business. The company also believes that today's investors need a protection plan and a profitability plan that the rest of the precious metals industry is simply not providing.
My Private Bullion's specialty is finding specific coins for buyers that will increase over time, well above bullion coins of similar prices. The company's services include individuals, IRA's, 401K's and entire company retirement plans. MPB's commitment is to learn an investor's individual goals and objectives, and tailor personalized solutions to meet their specific needs.