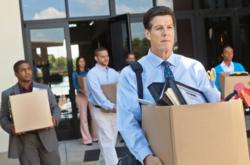 The key to dealing with being laid off and successfully keeping afloat financially is to reassess your standard of living.
El Segundo, California (PRWEB) December 31, 2012
Imposing a mass layoff on employees looking forward to the New Year has become an inevitable reality, according to findings in Go Banking Rates' latest investigation. However, employees who preemptively employ certain precautions are better equipped to keep their savings bank account funds afloat amid ongoing layoffs.
Companies struggling to meet their bottom line expect to let go thousands of employees in an effort to cut costs and maintain desired profit margins. According to a December 2012 Challenger, Gray & Christmas Inc. report, up to 150,000 jobs are in jeopardy in 2012 Q4 — a 46 percent increase from Q3.
The recent job losses, from Boeing layoffs resulting in a 30 percent reduction of management-level positions, to the 18,500 jobs dropped as a result of the Hostess liquidation, is indication that employees need to take proactive measures to safeguard their emergency savings account funds before their number is called.
Jennifer Calonia puts forth five strategies that help employees protect their finances against the threat of being laid off.
1. Put a Hold on Long-Term Savings Goals
Surviving a layoff requires that employees concentrate funds into an easily accessible location. This means that it's necessary to put retirement savings goals and other long-term savings contributions on hold in order to focus on the more urgent crisis at hand -- a potential layoff.
Instead of locking funds into an account that imposes a penalty for withdrawing money when laid-off employees most need it, a better alternative is to reroute cash reserves to a deposit account with high liquidity. A basic high-yield savings account typically allows depositors to make up to six withdrawals per statement cycle without incurring a service charge, while also earning interest for the funds that are kept in the account.
2. Downgrade Service Contracts
Consumers at risk of a layoff must look into how they spend their existing income. Often, the security of a steady job entices employees to opt for the highest-tier services available, the costs of which are excessive when preparing for a layoff.
"The key to dealing with being laid off and successfully keeping afloat financially is to reassess your standard of living," suggests Ms. Calonia. "Is premium cable truly a necessity, or is making your auto loan payment more important in the larger picture? It's a matter of making a temporary sacrifice in order to free up funds for your emergency savings account, when floating in between jobs."
To view the complete list and full report, please click here.
Ms. Calonia reports on personal finance, with a specialty in saving money, budgeting and lifestyle. She is available to comment on any of these topics and can be reached via e-mail at JenniferC(@)ConsumerTrack(dot)com.
About Jennifer Calonia
Jennifer Calonia is a reputed journalist covering personal finance subjects like banking, saving money and debt. Her features and helpful savings tips encourage and empower households across America to achieve financial balance. In November 2012, she launched her bi-weekly newsletter series called, "Breaking Up with Debt" where she teaches readers how to use Dave Ramsey's Seven Baby Step Plan to break free of debt.
Her work is featured in major publications like US News & World Report, Yahoo!, Yahoo! Finance, LearnVest, Business Insider, Can Do Finance and Consumerism Commentary.
About Go Banking Rates
http://www.GoBankingRates.com is a national website dedicated to connecting readers with the best interest rates on financial services nationwide, as well as informative personal finance content, news and tools. Go Banking Rates collects interest rate information from more than 4,000 U.S. banks and credit unions, making it the only online rates aggregator with the ability to provide the most comprehensive and authentic local interest rate information.
Additionally, Go Banking Rates partners with a number of major media outlets such as Business Insider and US News & World Report to provide compelling and edifying personal finance content, and its expert editors have been featured and quoted on several premier finance websites like Yahoo! Finance, LearnVest, The Motley Fool, Money Talks News, Forbes, The Street, Huffington Post and more.
For questions or comments, please contact Jaime Catmull, GoBankingRates.com Director of Public Relations, at JaimeC(@)GoBankingRates(dot)com, or 310.297.9233 x261.
###