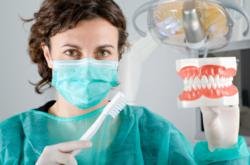 Gum disease starts innocuously enough but the symptoms and potential consequences to the body's overall health can soon worsen if it is ignored.
Bournemouth, Dorset (PRWEB) May 22, 2013
The latest scientific breakthrough that promises to halt gum disease is great news but no reason to be complacent, say the oral healthcare experts at Eludril and Elgydium.
In a study published in the Journal of Immunology, scientists at the University of Pennsylvania demonstrated an ability to prevent gum disease from occurring by blocking a molecular receptor that bacteria target to cause gingivitis.
Their technique also stops gum disease from spreading and getting worse if it has already developed.
The research has been welcomed by the manufacturers of Elgydium toothpaste and Eludril mouthwash – but the battle against bleeding gums and other gingivitis symptoms is not yet won, they warn.
And in the meantime, people should continue to maintain a good oral health regime, particularly as gingivitis has been linked to many more serious conditions such as heart disease, certain cancers, osteoporosis, diabetes, dementia, breathing difficulties and premature birth.
A spokesperson for Eludril and Elgydium said: "Gum disease is very common. Virtually half the adult population will get gingivitis at some point in their lives.
"It starts innocuously enough with sore gums but the symptoms of gum disease and the potential consequences to the body's overall health can soon worsen if it is ignored."
People who ignore early symptoms such as swollen gums risk the condition getting much worse – when a simple visit to the dentist could have cured the problem.
More serious symptoms include a receding gum, a sign that gum disease has been present and ignored for some time, although this can also be caused by brushing incorrectly or too hard.
The bacteria that cause gum disease tend to flourish if there is plaque on the teeth. Eating a sugary diet or drinking lots of fizzy drinks can exacerbate the problem.
Carbonated drinks can also cause tooth decay around the gum line and damage the enamel due to their acidity.
Jelly sweets can have a serious impact because they are laden with sugar and also tend to stick to the teeth. Even dried fruit can be a problem. Fresh fruit is a healthier alternative.
Gum disease can be prevented and combated by flossing properly and by brushing daily with a medicinal toothpaste such as Elgydium, which contains chlorhexidine – the leading treatment against gingivitis.
For decades dental professionals have recommended chlorhexidine as the gold standard treatment for gum disease.
Chlorhexidine is also present in Eludril mouthwash, a short term gingivitis treatment.
Eludril gingivitis mouthwash should be used two or three times per day while symptoms persist. The recommended dosage is 10 to 15 ml, which should be diluted with warm water in the measuring cup provided.
At the first sign of gingivitis, it is always recommended that people consult their dentist. Even the most assiduous of daily healthcare regimes will sooner or later leave some traces of plaque and bacteria.
Regular dental inspections and cleaning by a dentist or hygienist are essential if gum disease is to be diagnosed and treated promptly.
For more information about Elgydium toothpaste and Eludril mouthwash, please contact Chloe Rogers at Ceuta Healthcare on +44 (0)844 243 6661.
-Ends-
Notes For Editors
Eludril and Elgydium are represented in the UK by:
Ceuta Healthcare Ltd
Hill House
41 Richmond Hill
Bournemouth
Dorset
BH2 6HS
Tel: +44 (0)844 243 6661
Eludril Mouthwash is an antibacterial and analgesic solution which can be used to manage a number of oral health problems.
Its main use is to treat and prevent dental plaque formation and gum disease (gingivitis, also known as periodontitis) by preventing the build-up of bacteria.
Eludril Mouthwash can also be used to maintain oral hygiene in situations where tooth brushing is difficult, for instance, following oral surgery or in physically or mentally handicapped patients.
Eludril can also be used as a disinfectant for the cleansing of removable dentures and in the management of common mouth ulcers and oral candidiasis infections (fungus infections).
Elgydium Anti-Plaque toothpaste is specially formulated for sensitive gums and helps to prevent dental plaque and tartar build-up, the major causes of tooth decay and gum disease.
Elgydium Whitening, Sensitive and Decay Protection are also available as part of the Elgydium range of toothpastes.