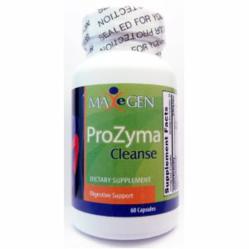 Needing ProZymaCleanse without even knowing it, I personally suffered with three bleeding ulcers that required hospitalization, a perforated colon, a colostomy, a colostomy reversal, and very high liver counts
Tampa Bay, FL USA (PRWEB) June 13, 2012
"Needing ProZymaCleanse without even knowing it, I personally suffered with three bleeding ulcers that required hospitalization, a perforated colon, a colostomy, a colostomy reversal, and very high liver counts" Said Liberty Health Network (LHN) Chief Operating Officer Russell Bly. "Naturally, when we were given an opportunity to add a product to our mix, ProZymaCleanse was at the top of the list. I now take the product twice a day and have had excellent health since the introduction of this product. More importantly, my liver counts are now normal. If the most important sale is when you sell yourself, I've made the biggest sale ever!" Said Bly.
ProZymaCleanse is the daily Probiotic, Digestive Enzyme, and Fiber Supplement from Liberty Health Network that is rising up the success chart for the company. Now available on Amazon.Com, ProZymaCleanse is making waves. Loaded with Probiotics, as referenced by Fox News expert Doctor Rosenfeld, ProZymaCleanse addresses many issues experienced by adults such as:
Lacking Needed Energy Even With A Good Diet
Waking Up Tired In The Morning After A Full Night's Sleep
Feeling Bloated Frequently Even While Dieting
Suffering From Constipation Or Flatulence (Gas)
Suffering From Irritable Bowel Syndrome
Catching Colds Frequently At All Times Of The Year
Suffering From Viral, Fungal, or Bacterial Infections
Having Stomach Ulcers Or Acid Reflux
Having Moderately High Cholesterol
Suffering From Yeast infections
Needing Regularity While On A High Protein Or Low Fiber Diet
Other Bothersome Digestion Issues
The key difference that set's ProZymaCleanse above the competition is the coveted Mortechem-Free distinction. ProZymaCleanse is manufactured without the ingredients that other companies routinely include in their products.
NO Titanium Dioxide
NO Microcrystalline Cellulose
NO Silicon Dioxide
NO Stearic Acid
NO Sodium Starch Glycolate
NO Talc
NO Povidone
NO Pregelatinized Starch
NO Hydroxy Propyl Methylcellulose
NO OPA Products
NO Croscarmellose
NO Calcium phosphate
NO Hydroxy Propyl Cellulose
NO Ethylcellulose
NO Crospovidone
NO Shellac
NO Calcium Stearate
ProZymaCleanse does contain:
Bifidobacterium Longum 5MG. Bifidobacterium longum is a species of Gram-positive anaerobic branched rod-shaped bacterium which can be found in the intestines of infant humans. They inhibit the growth of gram negative bacteria by producing lactic acid, and digest the complex sugars in human breast milk. Due to its importance, its genome was sequenced in 2002.
Lactobacillus Casei .62MG. Lactobacillus casei is a species of genus Lactobacillus found in the human intestine and mouth. As a lactic acid producer, it has been found to assist in the propagation of desirable bacteria. This particular species of lactobacillus is documented to have a wide pH and temperature range, and complements the growth of L. acidophilus, a producer of the enzyme amylase (a carbohydrate-digesting enzyme). It is known to improve digestion and reduce lactose intolerance and constipation.
Lactobacillus Acidophilus 12.5MG. Lactobacillus acidophilus (meaning acid-loving milk-bacterium) is a species in the genus Lactobacillus. L. acidophilus is a homo-fermentative species, fermenting sugars into lactic acid, which grows readily at rather low pH values (below pH 5.0) and has an optimum growth temperature of 30 °C (86 °F)[citation needed]. L. acidophilus occurs naturally in the human and animal gastrointestinal tract, mouth, and vagina. Some strains of L. acidophilus may be considered to have probiotic characteristics. These strains are commercially used in many dairy products, sometimes together with S. salivarius ssp. thermophilus and Lactobacillus delbrueckii ssp. bulgaricus in the production of acidophilus-type yogurt.
 
L. acidophilus is part of the normal vaginal flora. The acid produced by L. acidophilus in the vagina may help to control the growth of the fungus Candida albicans, thus helping to prevent vaginal yeast infections. The same beneficial effect has been observed in cases of oral or gastrointestinal Candidiasis infections. Certain spermicides and contraceptive creams can kill L. acidophilus in the vagina, clearing the path to possible yeast infections.
 
Lactobacillus Salivarius 1.2MG. Lactobacillus is a genus of Gram-positive facultative anaerobic or microaerophilic bacteria. They are a major part of the lactic acid bacteria group, named as such because most of its members convert lactose and other sugars to lactic acid. They are common and usually benign. In humans they are present in the vagina and the gastrointestinal tract, where they are symbiotic and make up a small portion of the gut flora. Many species are prominent in decaying plant material. The production of lactic acid makes its environment acidic, which inhibits the growth of some harmful bacteria.
Pancreatin 325MG. Pancreatin or Pancrelipase (trade names Creon (Solvay), Nutrizym (Merck), Pancrease HL (Janssen-Cilag) and Pancrex (Paines & Byrne)) is a mixture of several digestive enzymes produced by the exocrine cells of the pancreas. It is composed of amylase, lipase and protease. This mixture is used to treat conditions in which pancreatic secretions are deficient, such as surgical pancreatectomy, pancreatitis and cystic fibrosis. It has been claimed to help with food allergies, celiac disease, autoimmune disease, cancer and weight loss. Pancreatin is sometimes called "pancreatic acid", although it is neither a single chemical substance nor an acid.
 
Pancreatin contains the pancreatic enzymes trypsin, amylase and lipase. A similar mixture of enzymes is sold as pancrelipase, which contains more active lipase enzyme than does pancreatin. The trypsin found in pancreatin works to hydrolyze proteins into oligopeptides; amylase hydrolyzes starches into oligosaccharides and the disaccharide maltose; and lipase hydrolyzes triglycerides into fatty acids and glycerols. Pancreatin is an effective enzyme supplement for replacing missing pancreatic enzymes, and aids in the digestion of foods in cases of pancreatic insufficiency.
 
Inulin 100MG. Inulins are a group of naturally occurring polysaccharides produced by many types of plants. They belong to a class of fibers known as fructans. Inulin is used by some plants as a means of storing energy and is typically found in roots or rhizomes. Most plants that synthesize and store inulin do not store other materials such as starch.
Psyllium Husk Powder 500MG. Fibre supplements are considered to be a form of a subgroup of functional dietary fiber, and in the United States are defined by the Institute of Medicine (IOM). According to the IOM, functional fiber "consists of isolated, non-digestible carbohydrates that have beneficial physiological effects in humans".
Fiber supplements are widely available, and can be found in forms such as powders, tablets and capsules. Consumption of fiber supplements may be for: improving dietary intake, lowering blood cholesterol, alleviating irritable bowel syndrome, reducing the risk of colon cancer, and increasing feelings of satiety.
"Adding the best ingredients available, while keeping the product Mortechem Free was certainly a financial challenge." Said LHN Chief Financial Officer Tracy Grevert. He went on to say "In the end, we were able to put a product on the shelf at a highly competitive price."
In addition to ProZymaCleanse, LHN offers the following products best selling age reversing products: Beau Visage Non Surgical Facelift Mask; Beau Visage Facial Herbal Toner with Hyaluronic Acid and Witch Hazel (2 Ingredients recommended by TV's Dr. Oz); Beau Visage Facial Cleanser; Beau Visage Anti Aging Moisturizer. All four of the above products may be purchased individually, or in a complete set on Amazon.Com
LHN also offers several of the company's best-selling Mortechem-Free Nutritional Supplements on Amazon such as AlliSTAR Premium Garlic Supplement; ProZymaCleanse Daily Probiotic, Digestive Enzyme, and Fiber Supplement; O2 Plus Saturated Oxygen Drops; SlimEZ Weight Loss Supplement Capsules; MGA Plus Mangosteen, GoJi, Acai, and Pomegranate Capsules which play an important role in turning back the hands of time.
Additional products are also offered exclusively on the company's website for Network Marketing distributor sales.
About Liberty Health Network, LLC
Liberty Health Network is one of the nation's leading Direct and Internet Marketing companies with a state-of-the-art Global Distribution facility in Tampa Bay, Fl. For 12 Years, the Liberty Health Network name has been synonymous with high quality Mortechem-Free Nutritional Supplements, Anti Aging Skin Care, and Internet Web Applications. The statements made on this website have not been evaluated by the Food & Drug Administration. These products are not intended to diagnose, prevent, treat, or cure any disease.
Individuals interested in affiliate Marketing are encouraged to visit the new Affiliate Marketing Online Store at http://www.FaceLiftMasks.Com
Businesses or Individuals interested in distributing Liberty Products or requiring more information on this topic should contact Chief Operating Officer Russell Bly at (813) 774-8191 or e-mail at office(at)libertyhealthbiz(dot)com.