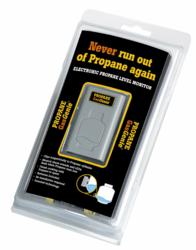 I was thinking about getting the pressure based warning device, but based on the reviews I steered away and bought the Propane GasGenie. Glad I did, It's great and does exactly what it says.
London, UK (PRWEB) May 09, 2013
The Propane GasGenie is a new product that electronically monitors the level of liquid propane left in a BBQ propane tank. It clips magnetically to the outside of the tank, so no installation is required. And it warns the user in plenty of time that the tank will need refilling or replacing. The manufacturers claim that it is the only product that actively warns in time to finish grilling. The Propane GasGenie propane level gauge comes with two AA Batteries which will typically last two years.
Today Product Innovation Ltd, a British sensor invention Company, who invented the Propane GasGenie have published independent test results to show that the product really works.
The test results show that within 10 minutes of switching on, if the gas is running low, the unit will alarm by flashing LED lights and playing a short tune. Typically this first happens when there is about 4 Lbs left in a 20 Lb tank: So plenty of time to finish what is cooking, and even to grill a few more times. A summary and the full results are available on the website.
The most commonly used propane gauge, the pressure type, typically only gives a few minutes warning. This can lead to frustration, or even anger, as the cooking is interrupted in order to replace the tank.
The Propane GasGenie tests cover the three main grilling situations: Fast short grill, slow roast and Turkey fry. In all three cases the Propane GasGenie went into alarm in time for the cooking to finish. Typically there is between 1 and two hours' worth of grilling left in the tank, when the alarm first sounds. This means that the user does not need to panic. They can simply remove the Propane GasGenie from the tank wall and clip it to their refrigerator so that it acts as a reminder that the tank needs refilling. (The LEDs flash every 20 seconds when not in alarm, so this attracts attention). The Propane GasGenie is available on Amazon.
About Product Innovation Limited
Product Innovation Ltd is an established New Product Development consultancy specialising in inventing and developing new products for manufacturing companies. The company has been in business for more than 25 years and in that time has been involved in a wide range of new products many of which have worldwide patents. Visit http://www.productinnovation.com for additional information about Product Innovation Limited. More information about Propane GasGenie can be found at the following site. http://www.propanegasgenie.com.