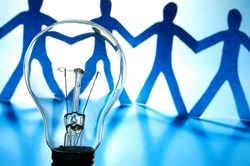 I am President of a solar company and I like Provisional-Builder®'s ability to dramatically lower the legal cost component of the provisional patent application.
Santa Clara, CA (PRWEB) April 29, 2013
As the US continues to migrate into high value-added products and services, control of one's intellectual property has become vital for businesses. However, the popular opinion is that patents are too expensive and too hard to get.
The new America Invents Act's (AIA) First-to-File provision is driving the race to the Patent Office, and will make patent protection more important than ever for start-ups, individual inventors and small businesses. Thus, businesses need to nimbly file patent applications quickly, yet in ways that do not break the bank.
Dr. Nisar Shaikh, Entrepreneur and Inventor, solves this issue by using software from PowerPatent. He notes: "I am President of a solar company and an engineering company, and a Stanford engineering PhD. I recently purchased the "ProvisionalBuilder®" software tool from PowerPatent Inc. I am planning to draft provisional patent applications for three new inventions. I am really glad to have ProvisionalBuilder® help me with these tasks.
Besides being a good software tool in a general sense, i.e., it is easy to use, capable of doing preliminary patent searches, has a self-diagnostic capability, facilitates the inclusion of drawings and photographs, and makes numbering within the patent text easy, ProvisionalBuilder® has one "killer" feature that will attract many inventors. This is its ability to dramatically lower the legal cost component of the overall cost of filing for a provisional patent.
With recent major changes in the patent law, there is real urgency to file and secure all IP. It has been my experience that using a patent attorney to draft all or most of a patent application incurs a legal bill of between $10,000 and $15,000. But, this is a steep price for an inventor to pay, especially if he or she discovers that the attorney "just didn't get it" and a second attorney has to be retained.
ProvisionalBuilder® allows an inventor to draft and maintain control of a patent application before getting a patent attorney involved. This can mean the difference between paying a legal fee of, say, $500 to $1,000 for a final, pre-filing review of a patent application versus paying $10,000+ for much more of an attorney's time drafting all or major parts of the application.
ProvisionalBuilder® allows me to complete my patent work at my own pace, and will save me legal fees for both my current patent applications and future applications. I highly recommend ProvisionalBuilder® to both startups and individual inventors."
About PowerPatent
PowerPatent Inc. is a privately-held software applications company headquartered in Silicon Valley. Our company's products are designed and developed by a team of legal, software, user experience, and Web design professionals. Our mission is to democratize the intellectual property (IP) ecosystem. Our tools provide a cost-efficient framework for inventors and entrepreneurs to participate in the IP system and be recognized and rewarded for their ingenuity.
For more information, visit http://www.powerpatent.com, follow us @powerpatent on Twitter, and like us on Facebook.