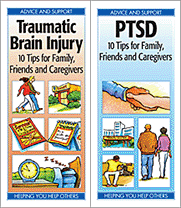 Living with or providing care for someone with a traumatic injury takes patience.
Santa Cruz, CA (PRWEB) April 22, 2013
Whether the injury is physical or mental, the world changes when a loved one suffers from a traumatic injury. PTSD (post-traumatic stress disorder) and TBI (traumatic brain injury) are two such injuries that are increasingly common. Journeyworks Publishing has just released two pamphlets that offer tips for family members, friends and caregivers of people with PTSD or a TBI. Professionals and educators interested in family and caregiver support can visit Journeyworks Publishing's PTSD and TBI Support review pack page to request free preview copies.
Living with or providing care for someone who has a traumatic injury takes patience. It can also mean learning new ways to approach the tasks of daily life. Each of these pamphlets provides an overview of some of the most common situations that families and caregivers face when dealing with a loved one who has PTSD or a TBI. In addition to the overview, these brochures offer practical tips like creating daily routines, what to do about mood swings and how to avoid isolation.
Providing care is hard work. Recovery and healing from PTSD or a TBI takes time. Family members and caregivers need to plan ahead and include caring for their own needs in that plan. From remembering to take breaks, to eating right or joining a support group, self-care is essential to preventing burnout. With a list of great resources and simple tips, families and caregivers will welcome the information offered in these pamphlets. Educators and professionals interested in caregiver or family support can get free preview copies by visiting Journeyworks Publishing's PTSD and TBI Support review pack page.
About Journeyworks Publishing
Journeyworks Publishing is a national health education and health promotion publisher with more than 10,000,000 pamphlets, brochures, booklets, posters, bookmarks, videos and other products distributed each year. Used extensively by public health departments, hospitals, schools, VA programs and more, Journeyworks materials are known for being creative, effective, easy-to-read, and accurate. You can learn more by visiting http://www.journeyworks.com.