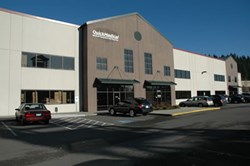 QuickMedical continues to surpass sales goals by incorporating fundamental marketing and sales strategies.
Issaquah, WA (PRWEB) December 11, 2012
QuickMedical continues to surpass sales goals by incorporating fundamental marketing and sales strategies. The basic sales and marketing activities that helped to grow the company in the past, continues to help the company grow sales and market share in 2012.
"One of the fundamental reasons why we have continued to grow at 25% per year over the last 10 years is because we control our growth," said Loren Timmons, Marketing Director at QuickMedical. "We measure much of our performance by asking our customers how we're doing. Growing too fast or in the wrong direction will increase customer complaints, reduce sales, and in the long-term hurt the company's reputation; out of control growth is a cancer."
QuickMedical has taken steps to add new technology software that increases security for their on-line order processing service. They have added a paperless accounting system to help reduce cost and continue to hire more sales and customer service personnel.
Mr. Timmons concluded, "QuickMedical made the decision a number of years ago that they would aggressively pursue new business opportunities, private labeling (QM-Elite) and build a satisfied, but more importantly, loyal customer following. I believe that through our past hard work, an aggressive internet and print marketing campaign, and by adhering to fundamental sales and marketing concepts, QuickMedical will continue to grow and be profitable for years to come.
Presently QuickMedical is in the process of adding more facilities to handle the additional space needed to accommodate the nearly 40,000 products available through their website. In 2012 alone, QuickMedical added another 10,000 SKU's to both their Government Sales and Commercial Sales product offerings.
"In good or bad economic times, our focus at QuickMedical has been to expand our product lines, increase our marketing and co-marketing effort, build long-term customer relationships, and sell outside of our comfort zone" said Scott Hanna, CEO at QuickMedical. "We provide added value to our existing services while meeting ongoing customer requests for new products that increase distribution channels and reduce cost."
About QuickMedical:
Established in 1993 as a veteran owned company, QuickMedical is a leader in the distribution and sale of medical supplies and equipment to the health care community. With great pricing, same day shipping and a low price guarantee, QuickMedical has the professional medical equipment used by healthcare professionals, industry and home. Click here to view our specials and sale items.