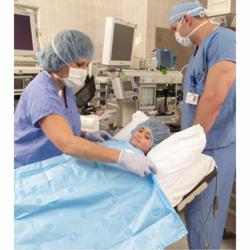 These warming blankets have been so beneficial to patient care, especially to the pediatric patients
Issaquah, WA (PRWEB) June 04, 2012
According to QuickMedical, a significant number of patients suffer from hypothermia at many points in the healthcare cycle; from the ambulance trip to the hospital to the period during and following surgery. A convective warming system, such as the PDM solution, has proven to be the most efficient and effective method of actively regulating the patient's temperature.
"These warming blankets have been so beneficial to patient care, especially to the pediatric patients. The surgeons are routinely asking that they be placed on each patient," said Dr. Corrie Anderson, Anesthesiologist at UCLA Medical Center.
Soft-Flex Operating Room Warming Blankets maintain a patient's ideal body temperature before surgery and after surgery in the recovery room. At these critical times, patients are more susceptible to hypothermia related complications which can dramatically impact their health and healing. The use of Operating Room Warming Blankets eliminates potentially lethal complications in patients such as surgical site infections, altered drug metabolism, impaired blood clotting, and cardiovascular issues.
Dr. Michael Zygmunt, Anesthesiologist at Elmhurst Memorial Hospital said, "The blankets and warmers are easy to work with, dependable, and very effective. It has lowered our incidence of hypothermia in the OR."
Proudly made in the USA, Progressive Dynamics Medical Soft-Flex Warming Blankets are packaged with 10 blankets per case. Each Warming Blanket is individually serialized for easy tracking and FDA compliance. Soft-Flex Blankets are both latex and DEHP free and are single-use items made of disposable and recyclable materials.
About QuickMedical:
With a best price guarantee and over 31,000 items to choose from including professional medical equipment, disposable medical supplies, fitness and therapy products, along with a full line of home healthcare products, QuickMedical is your online medical supply store. Click here to see our current promotions. For our BLOG click here.