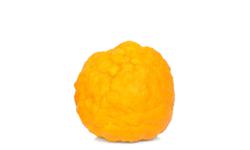 Every week the skin becomes a little tighter gradually regaining it's firmness and elasticity
London, UK (PRWEB) December 27, 2012
Cellulite experts LipoTherapeia, the London-based cellulite clinic, are launching Meso-CRF Vitamin C, a novel body firming treatment that combines the instant collagen tightening effect of deep tissue radiofrequency with the collagen boosting benefits of Vitamin C, for a synergistic body skin tightening result.
Deep tissue radiofrequency is the best non-surgical method to tighten up deep collagen fibres and to stimulate new collagen and elastin creation, firming and lifting the skin from within.
Now this treatment has become even more effective with the addition of Vitamin C, whose most important functions in the body are facilitating collagen production and protecting cells from oxidation.
Radiofrequency enhances the penetration of Vitamin C into the skin while Vitamin C enhances the collagen and elastin boosting activity of radiofrequency. The end result of this synergy is improved body skin skin firmness and elasticity with a pleasant, non-intrusive needle-free treatment.
With the improved circulation and local fat removal that radiofrequency offers, a considerable improvement in cellulite is also seen with a course of treatments.
In contrast to other radiofrequency treatments, some of which are very painful and may cause excessive skin reddening and irritation, Meso-CRF Vitamin C is said to be comfortable and free or excessive redness.
This is due to the "deep tissue radiofrequency" protocol employed by the treatment that ensures that the skin surface is not affected at all, while all the heat energy from the radiofrequency is applied on the deep skin collagen fibres and fat tissue.
This ensures comfortable yet effective treatment and clients can resume their normal daily activities immediately after this lunchtime procedure.
For maximum results, both fat-soluble and water-soluble vitamin C are used for this treatment, in high concentrations: ascorbyl glucoside has an affinity for water-rich tissues, while ascorbyl palmitate is ideal for fatty tissues.
Furthermore, the treatment can also be combined with LipoTherapeia's exclusive "Meso-CRF Hyaluronic Acid" and "Meso-CRF Centella" treatments, for maximum results with skin firming and cellulite reduction.
"Although body skin firmness does not come in an instant, we are proud of the skin tightening we can produce with Meso-CRF Vitamin C", LipoTherapeia's Georgios Tzenichristos states. "Every week the skin becomes a little tighter and it gradually regains it's firmness and elasticity"
A course of 6-12 treatments is recommended for best results, depending on the severity of skin laxity and cellulite. The treatment can be applied on the whole body, including the buttocks, hips, inner thighs, saddle-bags, upper arms, stomach, waist, calves and above the knees.
LipoTherapeia also offer "Vitamin C Radiofrequency Facial", a specialised treatment for the face, which combines the benefits of Vitamin C and deep-tissue radiofrequency, to tighten up and rejuvenate the facial skin and refine (slim) the facial contours.
----------------------------------
About LipoTherapeia
"Meso-CRF Vitamin C" is exclusively available at LipoTherapeia in Mayfair, London. Tel: +44 20 7047 1982. To email LipoTherapeia please fill the form at http://www.lipotherapeia.com/talk-to-the-expert.
"Meso-CRF Vitamin C" can be used on the whole body for skin firming, cellulite removal and localised fat reduction: calves, knees, inner thighs, outer thighs, buttocks, waist, stomach, upper arms, décolleté, neck, under chin, jowl, cheeks, under eye bags, crow's feet, forehead.
Most women experience the first long-term results with Meso-CRF in 3-4 sessions, with the best results typically achieved in 6-12 sessions, according to each individual's needs.
----------------------------
Disclaimer
> "Meso-CRF Vitamin C" offers impressive results in comparison to the majority of radiofrequency, cavitation and needle-free mesotherapy treatments, because it simultaneously combines these three techniques, also saving you time and money (a course of 6x Meso-CRF "Meso-CRF Vitamin C" sessions is equivalent to 18x stand-alone RF, cavitation and mesotherapy treatments). These results occur when the treatment is combined with diet, exercise and smoking/alcohol avoidance.
However, nothing biological can be guaranteed by any treatment or any technology, surgical or non-surgical, including "Meso-CRF Vitamin C". For this reason LipoTherapeia cannot make specific guarantees about specific results after a specific number of sessions, as those not only depend on the effectiveness of the technology used but also on factors over which we have no control, such as the client's diet, exercise and drinking habits; her genetics; her overall health; the severity of her cellulite/skin looseness/fat accumulation; and her goals/expectations.
The guidance of 12 sessions for "Meso-CRF Vitamin C", is only indicative of the amount of sessions required and less or more sessions than 12 may be needed, depending on the factors mentioned above.