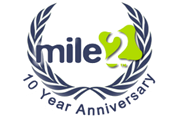 Google Hack database is most useable application for web application penetration testing.
Tampa, FL (PRWEB) December 07, 2012
Websites are getting complex now a day and due to usage of third party services like plugins etc, it is hard to have exact controls. Dozens of websites get compromised every day. Taking this into account, mile2, a leader in Cyber Security Training, recently announced the top five tools to perform web penetration testing. The top five tools announced included Google Hack Database, Websecurify scanner, Skipfish (Windows, Linux, Mac OS X), XSS RAYS and Scrawlr (Windows).
When asked about these five tools, Ray Friedman, CEO of mile 2 stated, "Google Hack database is most useable application for web application penetration testing. It enables users to understand web security in depth. Websecurify scanner is an advanced testing solution specifically designed to quickly and accurately identify security flaws in web applications by using advanced discovery and fuzzing technologies. SKipfish is an automated and active web application security reconnaissance tool. It is lightweight and pretty fast. XSS rays is a complete reversing/scanner tool to help pen test in large websites. Scrawlr is a free web application security tool for scanning SQL injection vulnerabilities in website."
mile2 and Raymond Friedman are aimed at providing Cyber Security training and consulting services that meet military, government and corporate specifications. Ray Friedman, CEO of Mile2 has spearheaded the development of the present series of Mile2 certifications which have become globally recognized by Militaries worldwide. Presently, Raymond carries several certifications and advanced degrees such as the Master of Science in Accounting, the Certified Information Systems Security Officer, Certified Penetration Testing Engineer and Certified Digital Forensics Examiner.
About the company:
mile2® was developed in response to the threat of corporate and national information security attacks in the aftermath of 9/11. Being a globally respected IT security organization, mile2®, focuses on security training for national and corporate entities who understand the value of "knowing your enemy." By training businesses and organizations to think like an attacker, mile2® helps clients ensure that their intellectual property and data remain secure. mile®2's overarching goal is to establish and contribute to a universal standard that has been adopted by government, military and corporate organizations whose intellectual property, secrets and infrastructure assets are significant strategic targets for entities with malicious and criminal intent. To learn more visit http://www.mile2.com/