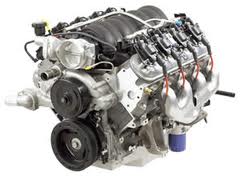 The new testing available at the CrateEngines.co website has helped this company to restructure its policy for customer warranties.
Kansas City, Missouri (PRWEB) March 11, 2013
Replacement motors are one way that vehicle owners use to raise the value of a preowned vehicle. High mileage is one of the most damaging effects for motors. The CrateEngines.co company is now offering dyno testing for all rebuilt crate engines before these are shipped to customers. Company details can be found online at crateengines.co.
These tests are now applied to Ford, Chevrolet, GMC, Plymouth and import engines in stock. These tests are one way this company is helping to extend the natural lifespan of a rebuilt motor.
Crate engines are now one of the simplest ways to replace a motor. Because these engines are shipped for install, no additional assembly is typically required depending on the builder. These crated motors are typically selected by project car builders, warranty service companies and vehicle owners when deciding to replace an engine.
Due to the demand of these motors online, the Crate Engines Co. has invested into its dyno technology equipment. It is this the equipment that is now available for all customers to benefit.
Warranty protection for a replacement engine is usually offered in dealerships selling these units. While warranty protection is typically included, the high cost of buying a dealership engine can be one factor that buyers consider when purchasing replacements. The new testing available at the CrateEngines.co website has helped this company to restructure its policy for customer warranties.
Because the results of these tests are so accurate, extensions of the usual warranty are now applied for no cost to customers. It is now possible for all engines to receive this three-year coverage extension after installation is complete.
The testing of rebuilt engines is one new incentives offered by this company. Recent engine inventory upgrades have been announced to the public. The Ford Motor Company engines have been added for online sale to help buyers locate engines. The news release for these motors can be read at http://www.prweb.com/releases/ford-crate-engines/crate-engines-for-sale/prweb10255562.htm.
Additional increases to the Chevrolet side of the company inventory are expected to be announced later this year as new contracts are put in place to make these engines for sale.
About Crate Engines Co.
The Crate Engines Co. is a leading builder and supplier of automotive crate engines. This company provides expert builds to customers in the United States and Canada. All major automotive automakers are represented in the company inventory to help supply the stock of engines that buyers search for when replacing motors in vehicles. The Crate Engines Co. warranties all motors sold for a three-year period to extend the lifespan and use of each engine. This new warranty attachment rivals the same coverage distributed by dealerships.