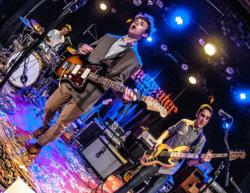 San Francisco, CA (PRWEB) April 11, 2013
Matt Jaffe and the Distractions is a young rock trio based in San Francisco, CA. The group was formed after Talking Heads guitarist Jerry Harrison discovered Matt performing alone at an open mic, and was immediately compelled to produce the boy's music. Together, and with contributions from Steve Ferrone on drums and Nathan East on bass, the collective artists are working on Matt's first album, out later this year.
In an effort to bring their studio creations to live audiences, Matt called on the teenage rhythm section force that is Alex Coltharp and Sammie Fischer. They draw their combined inspiration from a variety of influences, including Django Reinhardt, David Bryne and Elvis Costello.
The band will be playing upcoming shows at Dolores Park Café, Pacifica Beach Earth Day Festival, 924 Gilman Street and Sweetwater Music Hall during the month of April.
Matt Jaffe and the Distractions also recently completed their new single titled "Backs of Our Eyelids." The group finished a corresponding video https://www.youtube.com/watch?feature=player_embedded&v=zbnzsno_MxA for the song, which was shot in the Marin headlands, minutes from the Golden Gate Bridge.
In celebration of the song release, the group of high school seniors recently played their first show at Slim's in San Francisco.
About the company:
Studio SQ is a San Francisco-based recording studio that offers artists major studio quality recordings and access to our vast collection of high end gear. In addition, we offer PR services which include brand development and online and college radio press campaigns at affordable and flexible rates so our artists can be truly competitive, independently. The musicians we work with have the added benefit of our small staff's attention throughout the recording, strategizing, and release, offering a rock-solid support team without the often constrictive contracts offered by many labels.