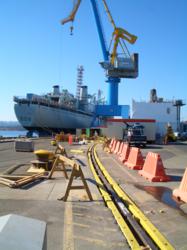 Wake Forest, NC (PRWEB) October 24, 2012
Stop-painting.com is excited to announce that it is exporting more than 11,000 linear feet of recycled plastic lumber to Canada. The recycled lumber will be used in a green railroad project.
Stop-painting.com's plastic lumber is made of 100% recycled plastic, colorants, ultraviolet stabilizers, and fiberglass. Furthermore, the impressive structural properties never require painting.
This "green" lumber is replacing concrete, a material that requires frequent painting. The impact of gallons of paint washing into the environment concerned the decision makers of the Canadian railroad project. This concern led to choosing recycled plastic lumber for their project.
This new product caught the attention of buyers in Canada looking to replace the concrete in a railroad project. For safety reasons, the concrete needed to be bright yellow in color. But this could only be achieved with frequent painting.
Canadian buyers appreciate the fact that the green lumber from Stop-painting.com is made of recycled plastic, reducing the amount of plastics headed for the landfill. In addition, the lumber can be completely recycled after use, which means there is virtually zero waste. Even better, no trees are killed in order to create this lumber.
The environmental gains of the recycled plastic lumber make it desirable solution for the Canadian railroad project. But the fiberglass added during the manufacturing process make the structural properties just as impressive.
As a result, Stop-painting.com will be exporting more than 11,000 linear feet of the recycled plastic lumber to Canada for use in its green railroad project.
The recycled plastic lumber is impervious to water, fungi, insects, mold, mildew and marine borders. The lumber does not deteriorate in any way, and comes with a 50-day warranty.
Stop-painting.com is a part of InSite Solutions, LLC and a leader in industrial floor safety signs and traffic control solutions. InSite Solutions LLC offers a comprehensive selection of innovative products designed to enhance traffic control and improve safety in the workplace.
Limiting the environmental impact of large scale and industrial projects is imperative, which is why they also offer a line of recycled plastic lumber.
To learn more about the innovative industrial safety products available at Stop-painting.com go to http://stop-painting.com.