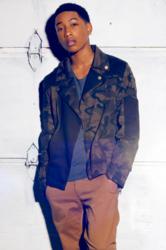 Kenedi and I are examples to show just because you had a parent incarcerated doesn't mean you are going to grow up to repeat their mistakes or you can't be something in life, 17 year-old Treasure stated.
Atlanta, Georgia (PRWEB) February 26, 2013
In an inspirational tale of two cities, two organizations and two sisters who are teaming up with an R&B superstar to prove that teens can make a difference when it comes to bringing awareness to the importance of mentoring at risk youth in Atlanta and Detroit, especially those who have had a parent incarcerated.
RCA singing sensation Jacob Latimore is teaming up with Kenedi Treasure by Ja'ishe cosmetics co-CEO's, Kenedi and Treasure Bishop in their quest to raise funds for Royal Ryderz, Inc. and K.I.T.E. (Konnecting the Incarcerated Through Excellence). By lending their celebrity to an Atlanta teen celebrity Egg White Affair on Sunday March 31, 2013, the trio hopes attendees will understand the importance of giving back to youth who are less fortunate. In keeping with the egg white theme, the dress code will be white with prizes for the best dressed of the afternoon when the event kicks off at 3:30PM at 630 Event and Convention Center 630 Travis Street, NW Atlanta, GA 30318
.
"Kenedi and I are examples to show just because you had a parent incarcerated doesn't mean you are going to grow up to repeat their mistakes or you can't be something in life," 17 year-old Treasure stated. "Our own dad went to jail, but he left that in the past and focused on his family and his future. Despite that, his kids are working to be successful. I just got accepted into Kennesaw State University and we are about to launch another product in addition to our cosmetics line."
As the force behind Kenedi Treasure by Ja'ishe cosmetics, the Bishop sisters are known in the Atlanta area for their day soirees and have been photographed in the city with some of the big names in teen entertainment such as Alix Lapri, the O.M.G Girlz (featuring singer/reality star Tiny Harris' daughter), Messiah Harris (rapper T.I's son), Cash Money's Torion Sellers, Mindless Behavior's Prodigy and a slew of the hottest young deejays. They hope more corporate sponsors will consider supporting this particular cause which will enable Royal Ryderz and K.I.T.E to facilitate their programs and steer youth in a positive direction.
"This event is coming fresh off the heels of our super bowl day party but instead of focusing on just having a good time, we decided to put our good time into two great causes," says Treasure, 17. "We are working to recognize and raise funds for Royal Ryderz and K.I.T.E. It's a huge undertaking and my sister and I are very grateful to Jacob [Latimore] for being such a big celebrity with a big heart for helping bring attention to the kids who will be helped as a result of these groups. We can't thank him enough for being so generous in hosting this event which will focus on kids in Atlanta, Georgia and Detroit, Michigan."
"Royal Ryderz, Inc is a 501(c)3 non-profit social motorcycle organization whose mission is to mentor at-risk but promising youth," explained 16 year-old Kenedi. "Their program focuses on conflict resolution, hygiene, home life situations, peer-pressure, etiquette and school work.
K.I.T.E. is a 501 (c)3 non-profit that is a part of our family and works with kids who have at least one parent in jail. K.I.T.E offer the youth in its program financial assistance, emotional and crisis counseling and mentorship of life skills and employment training. It's a lot to remember but it's a part of making sure these kids don't feel like the world is forgetting them just because of their circumstances." Kenedi concludes, "Programs like K.I.T.E and Royal Ryderz encourage us to help other kids. Easter has a spirit of new beginnings and we want attendees of this event to know that by coming out and participating, they will be raising funds for two programs that helps kids in two different cities with new beginnings in life."
For Sponsorship or In-kind donations call 404.954.2259.
For more information visit http://www.jacoblovesatl.com or call 248.469.2099.