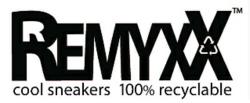 "I appreciate all of my backers, and I am happy to see so many people share the same love for our planet," said Gagnon
(PRWEB) June 16, 2012
REMYXX Sneakers, the world's first 100% recyclable shoes, has reached its initial goal of almost $40,000 and continues to raise money on the popular crowdfunding website Kickstarter.
The funding campaign for REMYXX started on April 27 with a goal of $39,697. The popular sneakers, as seen on ABC's Shark Tank, will officially end its Kickstarter funding campaign on June 25.
"I saw the need for an eco-friendly, 100% recyclable shoe, and I went for it," said REMYXX Creator Gary Gagnon. "I appreciate all of my backers, and I am happy to see so many people share the same love for our planet."
Most shoes have been unsuccessful on Kickstarter, so REMYXX joins a limited group that has successfully funded on the site. Funding was the first hurdle, but Gagnon has another goal in mind, to become the most funded shoe in Kickstarter history. The mark needed to obtain the coveted record is $60,000.
There is still time to pre-order a pair of REMYXX sneakers and help REYMXX continue to grow. To order, visit their Kickstarter page.
About REMYXX
The world's first and only completely landfill-free sneakers, REMYXX addresses the importance of recycling by dressing feet in style. REMYXX is about creating an everyday atmosphere in which we can advance and initiate improvements in recycling, landfill diversion, sustainability, green living, corporate responsibility and individual eco-smart decisions.