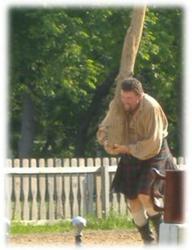 "The Highland Games have been around for hundreds of years and feature some of the fiercest competition and outstanding athleticism you will ever experience," Coy Sevier, Scarborough Renaissance Festival General Manager
Waxahachie, TX (PRWEB) May 01, 2013
The sporting competition of the Scottish Highland Games was held at the Scarborough Renaissance Festival April 19 - 22. Men and women athletes from around the state competed in Highland Games events that date back hundreds of years and the competition culminated with the Texas State Caber Championships. The games are split by various age groups competing at different expertise levels from novice to top amateurs. Highland Games events include:

Braemer Stone put (28 lbs/men – 16 lbs/women) – similar to modern-day shot put
Open Stone put (16 lbs/men – 8 lbs/women) – similar to modern-day shot put
Heavy Weight toss (46 and 54 lbs/men – 38 lbs/women) – a metal weight usually attached to with a chain thrown with just one hand
Light Weight (28 lbs/men – 14 lbs/women) – same as the Heavy Weight, with lighter weights
Heavy Hammer throw (22 lbs/men – 16 lbs/women) – round metal ball attached to the end of shaft is whirled around the competitors head and thrown for distance
Sheaf toss over the high bar (20 lbs/men – 10 lbs/women)
Weight toss over the high bar (20 lbs/men – 10 lbs/women)
Caber Toss (14-22ft long/ up to 146 lb) - a pole roughly the size of a phone pole tossed end over end
Other activities that took place as part of the Highland Games weekend were a children's Celtic costume contest, children's mini-Highland Games competition (including running events) and performances by the Shandon School of Irish Dance.
Coy Sevier, Scarborough Renaissance Festival General Manager said of the events, "The Highland Games have been around for hundreds of years and feature some of the fiercest competition and outstanding athleticism you will ever experience."
Scarborough Renaissance Festival is great family fun, 16th Century style with full-combat jousts and falconry demonstrations, 21 stages, hundreds of costumed performers, 200+ shoppes, artisan demonstrations, food fit for a king, nine pubs and taverns and daily wine tastings. Costumes are not required.
Scarborough Renaissance Festival is open on Saturdays, Sundays, and Memorial Day Monday, April 6 – May 27, 2013, rain or shine, from 10 a.m. to 7 p.m. Located in Waxahachie, Scarborough is just 30 minutes south of the Dallas/Fort Worth Metroplex off of I-35E at exit 399A. From Austin or Waco, follow I-35E north to Exit 399.
Admission is $24 for adults, and $10 for children ages 5 to 12. Children age 4 and under are admitted free. Parking is free compliments of Waxahachie Autoplex. Tickets are available on-line and discount tickets can be purchased at Dallas/Fort Worth area Tom Thumb or Austin area Randalls stores. The festival is sponsored by Dr. Pepper. For more information please call 972-938-3247 or visit http://www.SRFestival.com.
About the company:
Scarborough Renaissance Festival is great fun for the whole family, 16th Century style set in the days of King Henry VIII. Enjoy the thrills of full combat jousting and falconry demonstrations, non-stop Renaissance entertainment on 21 stages, over 200 craft shoppes, amazing artisan demonstrations, Renaissance rides, food fit for a king and the all new Mermaid Lagoon. Guests can even meet King Henry VIII and Queen Anne Boleyn along with their royal court and merry villagers! So come step back in time, and enter a real Renaissance Faire just for the weekends and Memorial Day Monday April 6th – May 27th. Just 30 minute south of Dallas/Ft.Worth in Waxahachie. Discount tickets available at Tom Thumb. Visit the website at http://www.SRFestival.com.