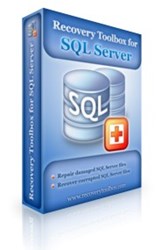 a powerful tool that helps users repair MDF files with minimal effort and within minimal time.
Alexandria, VA (PRWEB) February 12, 2013
Recovery Toolbox, a company well-known for its expertise and a vast collection of advanced data management and recovery solutions, presents the most up-to-date version of Recovery Toolbox for SQL Server, a powerful, functional and highly efficient application created specifically to help users repair MDF files damaged in all types of data corruption incidents. Recovery Toolbox for SQL Server has an intuitive interface that poses no problems to users of any level of computer literacy. The program quickly and accurately restores user and system tables, stored procedures, user-defined data types and views, as well as functions. Output options include a batch of SQL scripts on a hard drive or direct saving to an existing database. The recovery process is based on a simple and easy-to-understand wizard that minimizes the probability of a human error and guides the user from A to B. This solution helps repair MDF files saved in Microsoft SQL Server 7.0, 2000, 2005 and 2008 formats.
"SQL databases are a complex area that is no place for amateurs," points Victor Bobrov, Senior Project Manager at Recovery Toolbox. "However, it's predominantly amateurs who often face all kinds of problems with data integrity. We attempted to create a balanced solution that would combine the qualities of a pro-level tool and a no-brainer interface. Judging by users' reviews, we really hit the bull's eye here!"
Recovery Toolbox for SQL Server is available for download from the company's official website: http://www.recoverytoolbox.com/faq_sql.html