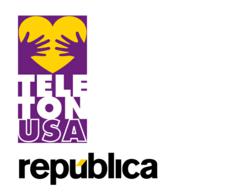 Our team is thrilled to make history with Univision and Fundación Teletón as we bring this important message to Hispanic America," said Jorge A. Plasencia, chairman and CEO of República.
Miami, FL (PRWEB) December 05, 2012
República, a cross-cultural advertising and communications agency, announced today it has been selected by Fundación Teletón to create the advertising awareness campaign to launch the inaugural TeletónUSA. TeletónUSA will be a 27-hour-long event that will reach out to the U.S. Hispanic community, urging it to come together for the benefit of needy children with disabilities, cancer and autism in the United States.
República has been tasked with curating a comprehensive strategy that includes research, branding, advertising and promotions. The four-phase campaign focuses on introducing and raising awareness for TeletónUSA, leading up to its first annual fundraising telethon to be broadcast on Univision Network on Dec. 14-15, 2012.
"We knew we needed to find an agency partner that not only had the creative capabilities, but that also shared our values and demonstrated a strong a commitment to community," said Fernando Landeros, president of Fundación Teletón. "República is an extraordinary agency, with a successful track record, and their team demonstrated a passion that was captivating," added Landeros.
With the slogan "La Gran Familia Hispana Unida por Nuestros Niños" (The great Hispanic family united for our kids)," the television, radio and online campaign features several of Hispanic America's most beloved personalities including Don Francisco, Gaillea Montijo, Giselle Blondet, Raul Gonzalez and Daniela Romo, among many other national and local celebrities.
"The launch of TeletonUSA speaks to Univision's 50 year legacy of service to our community and República will play an important role in creating awareness and mobilize our community to support this important initiative that will change lives," said Cesar Conde, president of Univision Networks.
Over the past four years, República has handled an array of advertising and communications efforts for Univision, including developing the creative elements and PSA campaign of Univision's award-winning "Es el Momento" education initiative.
"We are honored to have the opportunity to be a part of the historic launch of the first TeletónUSA on Univision," said Jorge A. Plasencia, chairman and CEO of República. "Our team is thrilled to make history with Univision and Fundación Teletón as we bring this important message to Hispanic America," added Plasencia.
History of Teletón
Inspired by Jerry Lewis's telethon to benefit the Muscular Dystrophy Association, Spanish-language television personality, Mario Kreutzberger ("Don Francisco") replicated the format in 1978 in Chile, and dedicated all funds raised during the event to children with disabilities. Over the years, additional Teletón foundations were established throughout Latin America and today, the Teletón is held in 13 countries. It has become one of the world's largest voluntary aid organizations, influencing more than 450 million people. Now this philanthropic purpose reaches the U.S. with more strength and a new concept built around Hispanic unity, hoping to become the Hispanic legacy of the American health care system. For more information on TeletónUSA, visit http://www.teletonusa.org.
About República (@RepublicaWorld)
Founded in 2006, República is one of the nation's fastest growing, cross-cultural marketing, digital and communications companies providing advertising, branding, promotions, interactive and communications services. In 2012, República was honored with four Telly awards, 17 Addy awards, a PRSA Silver Anvil and an Anvil Award of Excellence, reflecting its leading work for some of the world's most reputable brands. The company is based in Miami with satellite offices in Orlando, New York, Cleveland, and Puerto Rico. For more information, visit http://www.republica.net or fb.republica.net.